58% children with acute malnutrition cured, reveals Poshan Baran project
Rajasthan is the first state to organise community-based management of acute malnutrition.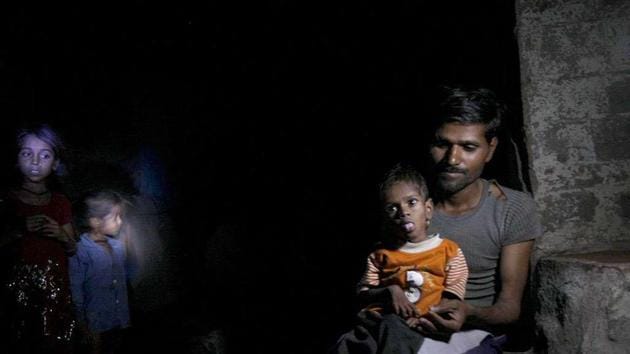 Updated on Apr 11, 2018 10:10 PM IST
Twenty-nine-month-old Sonam, a resident of Kushalpura village in Baran's Shahabad, was identified with severe acute malnutrition (SAM) during screening of children.
Her mid-upper arm circumference (MUAC) measured 98mm and she weighs 4.81kg. She was treated for four months under the community-based management of acute malnutrition (CMAM) following which her condition improved with her MUAC increasing to 129mm and weight went up to 7.95kg, revealed a dissemination workshop on Positive and Optimum care of Children through a Social Household Approach for Nutrition (POSHAN) Baran CMAM project organised by National Health Mission (NHM) and Integrated Child Development Services (ICDS) on Wednesday.
The project was led by the NHM, ICDS, Rajasthan and Action Against Hunger-India.
Action Against Hunger- India head of nutrition Meeta Mathur said the POSHAN Baran project, Rajasthan addressed CMAM in 63 villages of two blocks of Baran--Kishanganj and Shahabad—between July 2017 to March 2018, covering 6,304 children.
While screening 6,304 children, aged between 6 months and 59 months, 341 children were identified as SAM who were treated through the CMAM in which the children were given free nutrition supplement "Poshan Amrit", she said.
Apart from 341 SAM, 402 other children were identified as Moderate Acute Malnutrition and were referred to anganwari centres, Mathur said, adding that 163 SAM children or 58.42% were cured, while two died, 40 were defaulter, 74 did not recover and five slipped back to SAM.
She further said that the defaulter children were due to festivals such as teej, raksha bandhan, during monsoon, roads in villages get cut off, mothers going to her maternal house among other, while children who did not recover, were referred to malnutrition treatment centres.
NHM mission director Naveen Jain said it is not necessary that malnutrition has to be treated through drug, doctor and dispensary but can be treated through AAA, the frontline workers, including accredited social health activists (ASHAs), anganwari workers (AWW) and auxiliary nurse midwives (ANMs).
Rajasthan was the first state in India to organise CMAM in 41 blocks of 13 districts, including 10 high priority districts--Banswara, Dungarpur, Jaisalmer, Karauli, Rajsamand, Dholpur, Udaipur, Barmer, Bundi and Jalore--and three tribal-dominated districts, including Pratapgarh, Sirohi and Baran.
A total 2,34,404 children aged between 6 months and 59 months were screened in 41 blocks in 1,574 villages and 9,640 SAM children were identified and enrolled out which 9,117children recovered from SAM between 8 and 12 weeks of sustained intervention, Jain said.
The programme was started in December 2015 and it concluded in June 2016. The recovery rate of POSHAN first phase was 88%.
State woman and child development department principal secretary Roli Singh said treating malnutrition should not be a government programme, but peoples' programme.
The study in Kishanganj and Shahabad blocks in Baran, will help in the National Nutrition Mission, she said.
Close Story