After objections, Rajasthan forest dept explains tiger shifting preparations to NTCA
NTCA had raised objections on issues such as change of the tiger release location from Seljar to Darrah.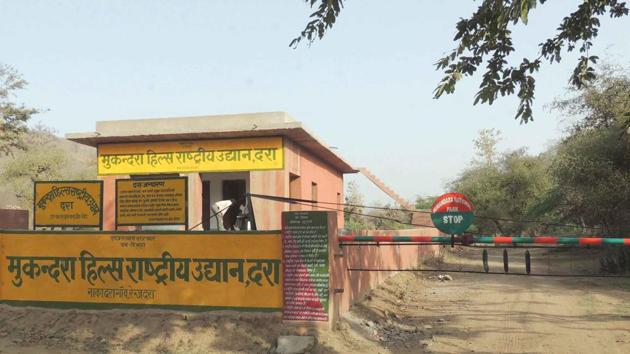 Updated on Mar 29, 2018 09:45 PM IST
The Rajasthan forest department has replied to objections which had been raised by the National Tiger Conservation Authority (NTCA) and has asked the NTCA to restore the in-principal approval to shift tiger to Mukundra Tiger Hills Reserve (MTHR).
A few days ago, NTCA had raised objections on issues such as change of the tiger release location from Seljar to Darrah area of MTHR; 82sq km fencing; memorandum of understanding with Wildlife Institute of India (WII); prey base assessment by WII and radio collar.
"We have sent our reply to NTCA over their objections on Thursday. Correspondence for the MoU with WII is still on and the radio collar has been purchased. Also, prey base assessment has been done by our experts, which was to be done by the WII," a senior forest department official said on the condition of anonymity.
He added that there have been issues about fencing the area – the area is 82 sqkm. A tiger's territory is in around 12 sqkm, so 82 sqkm is about eight times than a tiger would require as its territory. In addition, the decision to release the tiger at Darrah was made taking into account objections from locals at Seljar. Seljar is a hilly area, while Darrah is grassland. He added that NTCA has been informed about the preparations being made for shifting the tiger.
The NTCA has approved the relocation of three tigers — two female and a male —in phases. This will be India's first tiger relocation to decongest a wildlife habitat.
On the objections raised by the NTCA, an expert, working closely with the tiger shifting project, said fencing is necessary, around 150 trains cross the area daily, and thousands of vehicles ply on Darrah-Jhalawar-Kota highway. The animal needs to be protected and for that fencing is required. Decades back the tiger habitat was there but now it needs to be developed and supported.
He said fencing at reserves is nothing new, like at Dudhwa (UP), Kanha (MP), Bandhavgarh or Ranthambore in Rajasthan. "The tiger is being shifted to decongest Ranthambore Tiger Reserve. There are tigers which are not getting space such as T-25, T-6, T-42 or young (T-95, T-80). Some tigers such as T-38 in Kunno area, T-95 Dattiya and T-91 in Bundi as are living alone. We need to have a plan for them."
The state forest department has identified tiger T-91, which probably will be shifted to MTHR. At present, the tiger is moving around in the Bundi area. Shifting of prey base is in the process from various zoos in the state and 110 Cheetals are likely to arrive from Delhi.
Close Story