BJP's booth bid takes it to kabbadi courts
Updated on Sep 28, 2017 07:56 PM IST
The party aims to reach out to more than one million young people through the sport.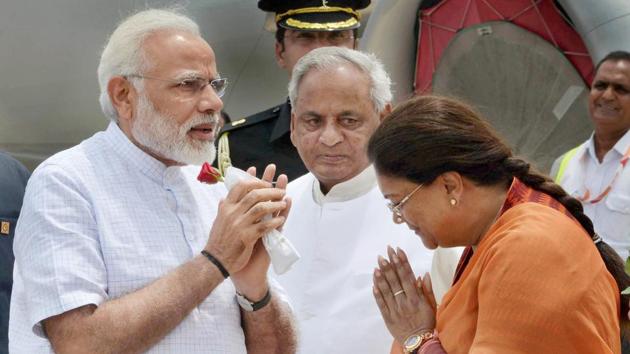 The BJP in Rajasthan will organise kabaddi matches at the booth level in the second week of October. The party's aim is to reach out to more than one million young people through the sport.
Rajasthan BJP president Ashok Parnami said that there will be three to four teams in each of the 47,600 booths in the state. Winners of the booth-level contest will compete at the mandal level. This will send 1,046 teams to the district-level competition. The party has 41 districts. The district champions will fight to be the state winner. The team which wins the state competition will represent Rajasthan at the national competition, Parnami added.
In July this year, during his three-day visit to Rajasthan, BJP president Amit Shah had asked leaders and workers to strengthen the party at the booth level and had given a target of 180 seats in the 200-member assembly.
Elections for the state assembly are due next year.
"The biggest mantra Shah gave today (July 21) is to strengthen booths to ensure victory in elections," Parnami had told reporters at the party headquarters in Jaipur after Shah's meeting.
The kabbadi matches at the booths are a step towards the objective.
Parnami said that preparations for organising the matches began on Thursday (September 28) and the matches will begin on October 7.
The state unit president said that state-level matches will be held at SMS Stadium in Jaipur. Chief Minister Vasundhara Raje will felicitate the winners.
Last year, BJP's Jaipur rural district, which comprises 13 assembly constituencies, had organised the Bhamashah Cup kabbadi competition. Raje inaugurated the event on May 22.
"There were 628 teams and the matches went on for 90 days," said DD Kumawat, party's president in Jaipur Rural district, who organised the event.
The sporting extravaganza was Kumawat's idea to build a relationship with the youth in the villages and to popularise the state and central governments' welfare schemes.
"We named the teams after these schemes and the players wore T-shirts printed with the scheme benefits. The winners got coffee mugs, which had details of the welfare scheme," Kumawat added.
The party is also running the 'vistarak' programme to expand the BJP's base in the state. The 'vistaraks' go from door-to-door to talk to people about government schemes and help them if they are not getting benefits of such schemes.
BJP has 161 members in the Rajasthan assembly. The party won all 25 seats in the Parliamentary general election. Parnami said that the party wanted to increase its tally in the assembly polls and repeat its performance in the Lok Sabha elections.