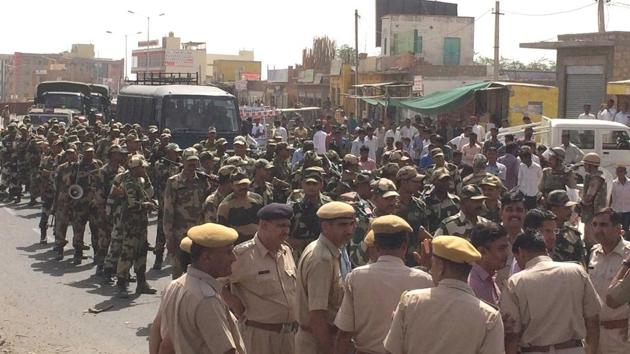 Dalit protests may have a bearing on assembly polls in Rajasthan
Out of 200 seats in the Rajasthan Assembly, 34 seats are reserved for scheduled caste and 25 for scheduled tribe candidates.
UPDATED ON APR 03, 2018 09:49 PM IST
Violent protests by Dalit organisations and the subsequent crackdown by the police have put the BJP in Rajasthan on the back foot months before the assembly elections due later this year, analysts said.
Out of 200 seats in the Rajasthan Assembly, 34 seats are reserved for scheduled caste (SC) candidates and 25 for scheduled tribe (ST) candidates.
Political analyst Rajiv Gupta said that anger and unrest among Dalits will have a bearing on the assembly elections. "BJP has not paid much attention to Dalits' problems and deprived sections of the society have been targeted by those close to the BJP. Unfortunately for the last two years, the caste-led protests have turned violent as the party only pays attention when there is violence. Caste has become a capital for political parties, and the political parties have become instruments for caste leaders. It happened in case of Karni Sena during Padmavati protests and also during Jat protests in Haryana. It's a serious threat for the BJP not only in the state elections but also in Lok Sabha elections," he said.
Gupta said that after the Supreme Court order on the SC/ST Act, there was no immediate response from the Centre and this created doubts in the minds of MPs belonging to scheduled caste and tribes and even BJP legislators.
BJP Dalit leaders are worried over the political fallout of Monday's violence and several leaders are in touch with the state leadership, sources said. However, publically, MLAs and ministers are putting up a brave face and blaming the opposition for inciting youths.
"It was a conspiracy by the Congress. This was a Supreme Court order and the Centre has filed a writ petition. In a democracy, everyone has the right to protest, but Monday's protests turned violent as youths were incited by the Congress. People will see through their design and there will be no adverse impact during the elections," Tarun Rai Kaga, BJP MLA Chohtan (SC reserved seat) said.
Another MLA belonging to Scheduled Caste said the protestors were misled. "I think there was a lot of misunderstanding that led to the protests and while the violence is not a good thing, I don't see any impact on the coming assembly elections," Rani Silautia MLA from Baseri (Dholpur) said.
The Rajasthan Congress has accused the ruling party of dividing the society and failing to maintain law and order. "The government has completely failed to maintain law and order. The BJP has been dividing people in the name of religion for political gains and is now trying to divide people in the name of caste," PCC president Sachin Pilot said.
Close