Jaipur likely to host IPL matches after four years
Updated on Jan 29, 2018 10:16 PM IST
The stadium has not been maintained for a long time amid factionalism in the RCA.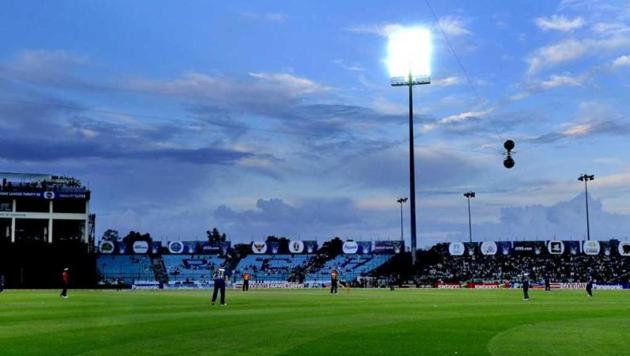 After a gap of four years, Pink City is likely to host the IPL matches again. The Board of Control for Cricket in India (BCCI) has given the local authorities one-month time to prepare the Sawai Man Singh Stadium for the matches.
The stadium has not been maintained for a long time amid factionalism in the RCA.
On Monday, the BCCI observer, National Cricket Academy chief executive officer Toofan Ghosh, visited the stadium and gave necessary orders to the Rajasthan Cricket Association (RCA) officials and asked them accomplish the maintenance work by March 5.
"A lot of work is expected to be completed in one month, which includes repairing and painting," said Ghosh.
But questions such as who will pay the money and to whom, and who will carry out the construction work remain. Ghosh said he will submit a report to the BCCI and thereafter the board will decide over the issues.
Confirming that Ghosh visited the SMS stadium and gave instructions regarding maintenance of the stadium, RCA joint secretary Mahendra Nahar said the BCCI observer would remain in Jaipur for next three days and keep a close watch on the developments.
He said that seating arrangements at eastern stand in the stadium will be modified. "BCCI will arrange the money for the work," said RCA secretary Rajendra Singh Nandu. He said that the association employees were not paid salaries for last 10 months.
RCA officials said in case the stadium was not ready by the given date, the matches could be shifted to Pune. "The work has to be completed by March 5. Scenario will be clear within 10-15 days," said an official familiar with the matter.
Pitch curator Taposh Chatterjee said, "The ground will be prepared before time. Whatever they require, we will do it in a better manner."
Rajasthan Royals' vice chairman Rajiv Khanna said, "Jaipur always remains in our top priority. We want to play our matches here."
BCCI representative KVP Rao is expected to visit Jaipur on Tuesday.