Lonely Sariska bear could get two companions soon
Updated on Jul 27, 2015 05:12 PM IST
A sloth bear in the Sariska Tiger Reserve (STR) has been lonely for the past two years. Now, the forest department is attempting to get two companions for the animal from other sanctuaries in the state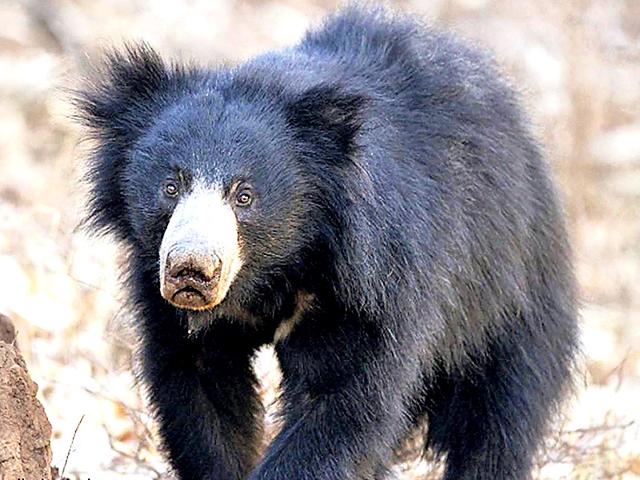 A sloth bear in the Sariska Tiger Reserve (STR) has been lonely for the past two years. Now, the forest department is attempting to get two companions for the animal from other sanctuaries in the state. The STR administration has written to the chief wildlife warden to release two female bears for the lonely male bear.
The State Board of Wildlife had, in its meeting in 2013, already recommended the release of two females in STR to provide breeding opportunity to the male sloth bear.
The STR administration also wants to create history once again. The relocation of sloth bears has not taken place anywhere else in the world. STR could well be the first one — like, in 2008, it became the world's first forest reserve to scientifically reintroduce tigers, relocated from the Ranthambore National Park.
In April 2013, a sloth bear was seen on the outskirts of STR, having probably strayed from Kaila Devi forests. The bear, estimated to be 2 to 3 years old, was tranqualised and brought to Naya Pani in STR. The animal has since explored the entire reserve and has made Bhagani, Kali Ghati, Slopka, Udainath and Jhahaj its main habitat.
Having monitored the animal for more than two years, STR management now feels it has adapted to the forest perfectly. No conflicts with tigers or humans have been reported till now, which has raised hopes of reintroduction of sloth bears in the reserve.
"The rescued male has proved that reintroduction of sloth bear can be taken up on priority, which will add to the faunal biodiversity of the reserve," said STR field director RS Shekhawat. STR, he added, has proved to be the ideal habitat for sloth bears.
Sloth bears disappeared from the Sariska forests due to poaching and increased interference of humans. The 'Richinda Valley' in Telha Range of STR had been named after sloth bears, due to their healthy population in the area in the past. The Aravali Ranges, in fact, once had a good number of bears but due to habitat degradation and fragmentation, their populations are now restricted to some pockets like Mount Abu, Sunda Mata, Kumbhalgarh and Raoli Todagarh. In the Vindhyas, Ranthambhore, Kaila Devi, Darrha and Vanvihar forest areas have an equally good potential for their survival.
Close Story
Personalise your news feed. Follow trending topics