Medical teachers intensify stir, ask govt to withdraw new order
Doctors have tendered mass resignations to protest govt order that puts medical officers at par with medical teachers.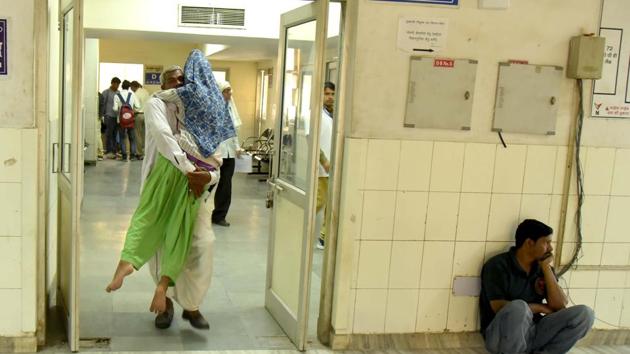 Updated on Mar 09, 2017 08:51 PM IST
The Sawai Man Singh Medical College teachers, who have boycotted work in protest against the state government's March 7 order to keep medical officers at par with medical college teachers, have decided to intensify their agitation if the directive is not withdrawn.
Rajasthan Medical College Teachers Association (RMCTA) president Dr SS Yadav said a delegation met health minister Kali Charan Saraf at the assembly on Thursday and informed him that the government's order to make medical officers equivalent to medical college teachers is not a fair decision. "We showed him the guidelines and norms of Medical Council of India and told him that the council will not recognise the colleges, where medical officers take up the job of teaching, and students will be in soup."
Dr Yadav said the medical officers who are posted at primary health centres, community health centres cannot teach the students.
RMCTA secretary Dr Dhananjai Agarwal said: "The minister has assured to look into the matter, but till the government does not roll back the order, we doctors will continue with our agitation."
He said there has been information of medical college doctors submitting their resignations across the state, many have gone on mass leave. "The minister was not aware about the repercussions of this order and we have given him the day to think about the decision."
Senior vice president of the association, Dr RK Jain, said: "We are taking care of emergency services, intensive care units, attending to deliveries, post mortem, MLC so that patients do not suffer. We will decide our future course of action after the government's response."
The protest comes at a time when the state government is planning to eight new medical colleges at Alwar, Barmer, Bharatpur, Churu, Dungarpur, Bhilwara, Pali and Sikar. To get MCI recognition, the government has decided to give lateral entry to medical officers by making them equivalent to medical college teachers based on their number of years of experience. The SMS Medical College has 550 medical teachers.
Dr Agarwal said the Medical Council of India may cancel affiliation of colleges, where the new rule gets implemented. "If eligibility, experience of these medical officers, made 'equivalent' to medical teachers, are taken into consideration in tune with MCI guidelines, then the decision would hold no water."
Close Story