80 men, 50 camera traps fail to capture missing Sariska tigress
Mar 11, 2018 10:47 PM IST
The Rajasthan forest department plans to install camera traps across the Sariska Tiger Reserve (STR) in the next two-three days to track the tigress that went off the radar since February 24
The Rajasthan forest department plans to install camera traps across the Sariska Tiger Reserve (STR) in the next two-three days to track a tigress that went off the radar since February 24, said officials monitoring search operations.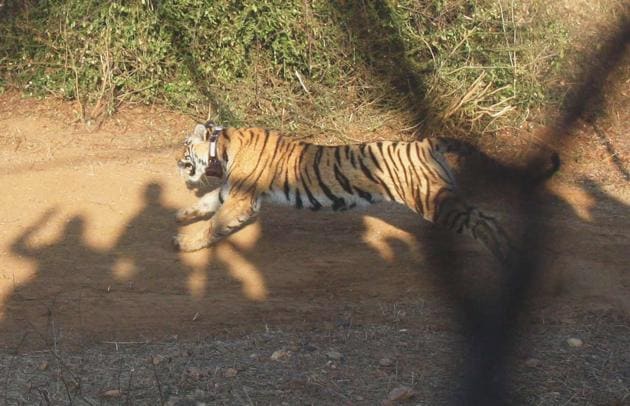 Four teams consisting of 80 forest personnel are on their toes to locate the 12-year-old tigress, ST-5, which was last sighted on February 21 with male tiger ST-11 in the Umri area of the reserve. The home range of the tigress is Umri-Kemala-Sukola-Devdi in the core area of the reserve.
The STR administration has installed over 50 camera traps to get clues about the tigress, which was among the big cats translocated from Ranthambore between 2008 and 2012. Officials said the radio collar of the tigress had been defunct since February 7.
"Efforts are on to locate the tigress and teams are working day and night," said Govind Sagar Bharadwaj, chief conservator of forest and field director of Sariska Tiger Project (Alwar). "We have installed camera traps but will install more throughout the reserve if the tigress is not located this week."
A senior forest official said on anonymity that when ST-5 was sighted with 4-year-old male tiger ST-11 in Umri, it was observed that her radio collar was not functioning. "There are chances that she mated with ST-11. On February 27, the pugmark of the tigress was found but she was not sighted," the official said.
"The collar helps in tracing a tiger. Sariska has such a landscape that signals from the collar sometimes are not received; such things have happened before."
The official said, "The missing of the tigress raises five possibilities – she changed her territory, moved to a safer place to give birth to cubs, died due to poisoning, died due to old age, or could have been poached. But at present, the focus is on locating her."
Sariska lost all its tigers 12 years ago to poaching. With an overall area of about 800 sq km and a core area of approximately 500 sq km, STR has now 14 tigers – nine female and five male.
Eight tigers were translocated from Sawai Madhopur Reserve to Sariska between 2008 and 2012. One of these was poisoned in 2010. Tigresses ST-2, ST-9 and ST-10 gave birth to seven cubs between 2012 and 2017.