More staff, increased fogging, anti-larval drives to combat dengue in Rajasthan
The worst affected districts are Kota, Jaipur, Dholpur, Ajmer and Bharatpur.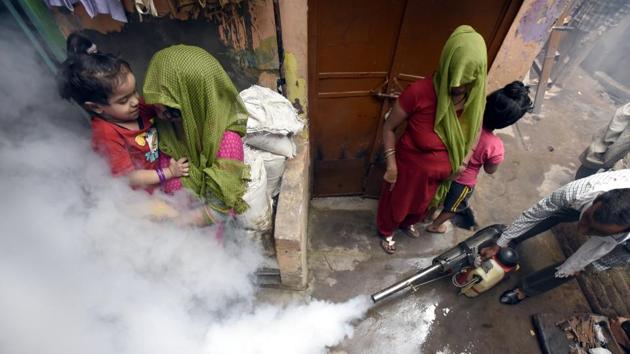 Updated on Nov 09, 2017 09:26 PM IST
he Rajasthan health department has strengthened manpower and ramped up anti-larval and fogging drives to combat the spurt in the number of dengue cases in Kota and Jaipur, officials said on Thursday.
State health minister Kali Charan Saraf reviewed the situation and directed officials to control the surge in the mosquito-borne disease.
Following the health minister's direction, manpower has been strengthened by deputing three additional epidemiologists in Jaipur and two in Kota, said additional director (rural health) Dr Ravi Prakash Mathur.
The epidemiologists will analyse the patterns, cause and effects of the vector-borne disease along with identifying the risk factors for the disease and targets for preventive healthcare, he said.
This apart, six teams of the Jaipur Municipal Corporation, medical and health department and district administration, will be carrying out anti-larval and fogging drives for 15 days in Jaipur, Mathur said.
In Kota, 125 litres of pyrethrum and 11 fogging machines have been issued along with an additional ELISA machine has been sent for diagnosing dengue, he said.
A team from the Centre has been sent to Kota to investigate the rising number of dengue cases and a proposal has been sent to the National Vector Borne Disease Control Programme to send a team.
Apart from this, ₹ 77 lakh has been allocated to Kota for purchasing two ELISA machines and a PCR machine.
From January 1, 2017 until now, a total 6,674 cases have tested positive for the vector-borne disease of who 10 have died.
The worst affected districts are Kota, leading with 1,731 cases, followed by Jaipur with 1,663 cases, Dholpur 592, Ajmer 287 and Bharatpur with 248 among others.
The number of cases of dengue has started to decline now, Mathur said.
The cases started rising in the state from the second week September with 318 people testing positive for dengue, which steadily increased every week to 432, 754, 853, 664, and 1,102 until October last week and in the first week of November, the cases declined to 494,a health department official said.
In Jaipur, there were 68 cases of dengue in second week of September, which went to 39, 131, 310, 261, 251, 241 week after week and in first week of November, the cases were only 120.
Similarly, in Kota, there were 67 cases in the second week of September, which went up to 120, 130, 111, 121, 119, 228 every week and in the first week of November, there were185 cases, the official said.
Close Story
Personalise your news feed. Follow trending topics