New Rajasthan BJP president has task cut out ahead of assembly elections
The 74-year-old leader now has to strengthen the BJP's base and mobilise the workers ahead of the assembly elections.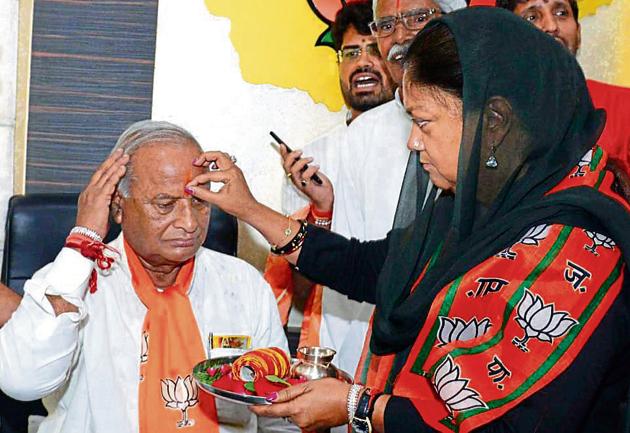 Updated on Jun 30, 2018 10:49 PM IST
Until a few months ago, Madanlal Saini or Madanji Bhaisaab, as he is popularly known, was just another BJP worker who used to commute daily to the party's Jaipur office from Sikar on a public transport bus.
His elevation to state BJP president, barely three months after being nominated to the Rajya Sabha, took many in the party by surprise.
By appointing an OBC leader community as the state unit president, the BJP has tried to balance the caste equations and counter Congress leader Ashok Gehlot who also belongs to the Mali community.
Some experts are not convinced that the move will pay off.
"Saini's appointment indicates a crack in hegemony of Amit Shah and is also an indication of the fact that Vasundhara Raje calls the shots in Rajasthan. Saini cannot challenge a tall leader like Ashok Gehlot," political analyst Rajiv Gupta said. "It seems that BJP is mentally prepared to taste defeat in the forthcoming elections."
With assembly elections only five months away, the 74-year-old leader now has his task cut out. He will have to strengthen the party's base and mobilise the workers ahead of the assembly elections. Saini is also expected to tour the state and meet party office-bearers to understand the problems on the ground.
With 25 seats in the Lok Sabha, Rajasthan, which votes for a 200-member assembly later this year, is critical to both the BJP and the Congress. While the BJP might have come up with an ambitious target of winning 180 assembly seats, the morale of the party workers is low after losing two Lok Sabha seats and one assembly seat by a huge margin in the by-elections held in January this year.
"Saini Ji is a compromise candidate but he has handled some tough assignments in the past and we are confident that he will be able to unite the party workers. His immediate task would be to pacify some Rajput leaders who are unhappy that (Gajendra Singh) Shekhawat was not made the president," a BJP leader said.
Saini admitted after taking charge that the elections will be a challenge and he will need full support of the party workers. "I will try and contact the senior workers and ask them to once again start working full-time for the party," he said.
A remark by a worker during Saini's speech that the party will also have to listen to their problems and do their work summed up the mood in Rajasthan BJP. It remains to be seen whether Saini will be able to boost the sagging morale of party workers ahead of the assembly elections.
Close Story