Pali textile units pollute Bandi river despite NGT stay
Updated on Mar 27, 2017 08:11 PM IST
Textile units in Pali city continue to release polluted water into the Bandi river, violating a National Green Tribunal (NGT) order staying their operation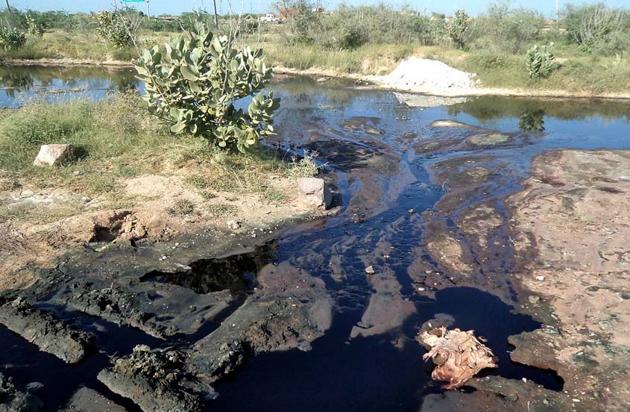 Hindustan Times |
, Jodhpur
Dinesh Bothra
Textile units in Pali city continue to release polluted water into the Bandi river, violating a National Green Tribunal (NGT) order staying their operation.
On October 3 last year, the NGT stayed the operation of about 800 textile units after environmentalists moved the tribunal over pollution of the Bandi river.
The water resources department recently exposed secret operation of some units. In a letter to the regional officer of the Rajasthan Pollution Control Board on March 17, executive engineer Ramnarayan Chaudhary said some textile units in Pali were releasing polluted water into the Bandi, a seasonal river of western Rajasthan.
The river water is stored in Nehda dam, about 40km from Pali city. Choudhary said, "Chemical water is reaching the Nehda dam through Bandi river."
The dam remains filled to its full capacity though water stored during the rainy season was released for irrigation. "This makes it clear that water released from textile units in Pali is reaching the dam," Choudhary said.
The water resources department tested the water quality. "The water in the dam is of no use for consumption and irrigation as its quality has deteriorated," the executive engineer said. "Closure of textile units is just an eyewash."
The quality test reports are stunning, said Mahaveer Singh Sukarlai, an environmentalist who went to the NGT over Bandi river pollution.
"The TDS (total dissolved solids) of the water stored in the dam after the rain was recorded at 560 PPM (parts per million); it has now risen to 2950. The electrical conductivity of the water has increased to 6.3 from 1.7," Sukarlai said.
Around 200 million cubic feet of water has been polluted though the state government focuses on Mukhya Mantri Jal Swavlamban Abhiyan, environmentalists said.
Rajeev Pareek, regional officer of the Rajasthan Pollution Control Board, said a team has been formed to keep an eye on the operation of textile units.
"Electric and water supply to eight textile units, found violating the NGT order, was snapped. Twelve more such units would be deprived of water and electric connections," Pareek said.
"Supply of three-phase electricity to the industrial area will be stopped soon so that the textile units cannot operate secretly."
.
Personalise your news feed. Follow trending topics