Politics hots up in Rajasthan's Kota region over garlic prices
Updated on Jun 07, 2017 08:53 PM IST
The Congress and farmer organisations are blaming the BJP-led Rajasthan government for failing to ensure due prices to farmers in Kota region while the ruling party is blaming the Congress for doing nothing for garlic growers when the party was in power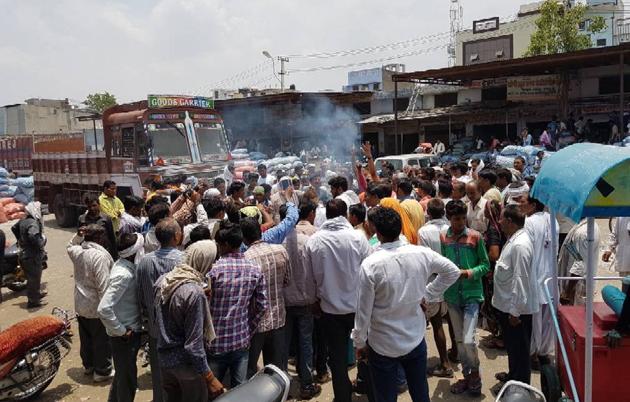 Politicians are busy blaming each other for low prices of garlic as farmers suffer.
The Congress and farmer organisations are blaming the BJP-led Rajasthan government for failing to ensure due prices to farmers in Kota region while the ruling party is blaming the Congress for doing nothing for garlic growers when the party was in power.
Hadauti region is known as the garlic bowl of Rajasthan and produces around 90% of the garlic in the state. After a profitable crop last year, the area under garlic production had doubled this year.
This year a bumper crop led to a crash in garlic prices and snowballed into a political issue.
According to agriculture department figures, from 66,500 hectares in 2016, the area under garlic production increased to 1.38 lakh hectares this year. Last year, around 3.94 lakh metric tonnes of garlic was produced in Hadauti region, which went up to 7.87 lakh metric tonnes this year. The average price of garlic is between ₹1,500 and ₹2,500 per quintal this year which was around ₹5000-₹10,000 per quintal last year.
"The BJP government has spent crores on the Global Rajasthan Agritech Meet (GRAM) Kota event last month, but has failed to provide due garlic prices to the farmers," said former Congress minister Shanti Dhariwal.
Congressmen — led by Pradesh Congress general secretary Pankaj Mehta, Pradesh Congress Committee secretary Naimuddin 'Guddu' and Youth Congress president (Kota-Bundi parliamentary constituency) Bhanu Pratap Singh — and Youth Congress workers took out a demonstration in Kota on Wednesday to demand that the state government buy garlic from farmers under Market Intervention Scheme (MIS) to ensure minimum prices.
Mehta said that a farmer in Kota recently died of cardiac arrest following low garlic prices, so the administration should provide compensation to the family.
Meanwhile, farmer organisations of Kota region, including Hadauti Kisan Union (HKU), Bharatiya Kisan Sangh and Kisan Sabha have also echoed similar demands.
HKU leaders Kundan Cheeta, Dashrath Kumar and others burned garlic at the fruit and vegetable mandi on Monday demanding that the government purchase garlic under MIS Scheme.
Dashrath Kumar, general secretary of HKU said that garlic farmers are likely to face a loss of ₹300 crore in Kota division if garlic prices continue to be low.
BJP MP from Kota Om Birla and Ladpura MLA Bhawani Singh Rajawat have apprised chief minister Vasundhara Raje of the issue during a meeting on Tuesday in Jaipur.
Birla, however, lamented that the Congress has done nothing for garlic growers during its regime when garlic prices went as low as ₹5 per kilogram in 2012. "I have met Union commerce minister over demand for increasing export of garlic. I am also making efforts to establish a garlic export zone in Kota and establish garlic processing unit to ensure due prices to farmers.
Close Story
Personalise your news feed. Follow trending topics