Rajasthan government to ban e-cigarette and issue license to tobacco vendors, says Saraf
Rajasthan health minister Kali Charan Saraf said the government is in the process of banning e-cigarettes and also considering issuing licences to tobacco vendors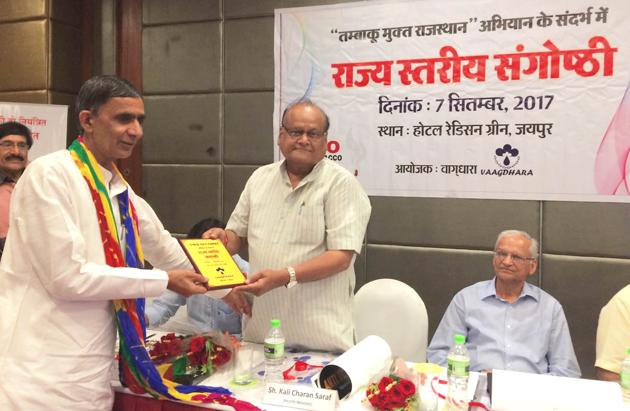 Updated on Sep 07, 2017 08:11 PM IST
Rajasthan health minister Kali Charan Saraf said the government is in the process of banning e-cigarettes and also considering issuing licences to tobacco vendors.
Saraf was addressing a state level seminar on 'Tobacco-Free Rajasthan' organised by Vaagdhara, an NGO, in a city hotel on Thursday.
"I used to chew a mixture of pan masala and tobacco from 1990 to 2000. Then I developed blisters inside my mouth. I consulted a doctor, who asked me to quit tobacco. I instantly did," he said
"If you want to quit tobacco or smoking, doing so instantly with a strong will power will work or else it's a difficult habit to quit," the minister said.
He said that the state government is committed to making Rajasthan tobacco free. He said 50,000 people die every year from consuming tobacco and the question that is generally asked is why not ban tobacco in the state and solve the problem. "It is easier said than done," he added.
If the world bans tobacco and its manufacturing, then the state can also ban it. However, if only one state bans tobacco, it will boost smuggling. That's why the government is making people aware about the ill-effects of tobacco so people can quit it, he added.
Health minister said more than 1.80 lakh challans have been issued for violation of Cigarettes and other Tobacco Products Act (COTPA) 2003. After making all schools a tobacco-free zone, all the 17,000 government health facilities have been asked to make their premises tobacco-free and letters have been written to private hospitals for the same. Letters have been issued to 6,800 anganwari centres to make their premises tobacco free and to ensure no tobacco products is sold within 100 metres of it.
"I am personally writing letters to pradhans and sarpanchs to quit tobacco and create awareness about the ill-effects of tobacco in rural areas," said Saraf.
Rajasthan Human Rights Commission chairman Justice Prakash Chandra Tatia said that tobacco should be completely banned.
National Tobacco Control Programme state consultant Narendra Singh, former IAS Rajendra Bhanawat, Dr Kunal Kothari, Bharatiya Janata Party general secretary Abhishek Matoria, Ramesh Gandhi of Gandhi Foundation and others spoke on the occasion.
Close Story