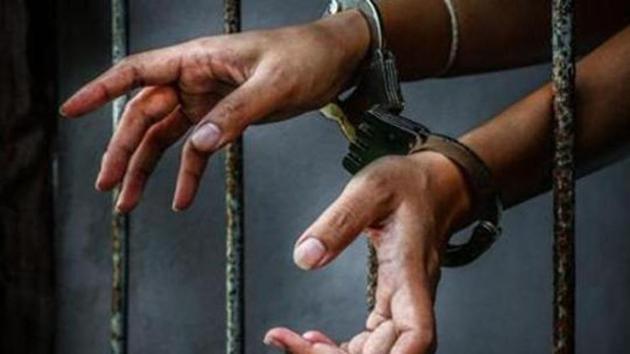 Rajasthan jail officials want all jammers shifted to three prisons to curb mobile usage by inmates
The jail department demanded a budget of Rs 72.01 lakh to transfer the jammers, Rs 11.20 lakh for the establishment of new towers, and Rs 1.88 crore for the annual maintenance of the devices.
Hindustan Times, Jaipur | By Jaykishan Sharma
, Jaipur
PUBLISHED ON SEP 14, 2018 01:10 AM IST
Worried over ineffectiveness of jammers installed at central jails in Rajasthan and use of mobile phones by prisoners, the state jail administration has requested the home department to shift the devices worth Rs 20.12 crore to three prisons for better results.
"In the past, 57 jammers of 4G techniques were placed at central jails of Ajmer (7), Jaipur (11), Bikaner (7), Sri Ganganagar (14), Kota (4), Udaipur (6), and Bharatpur (7), and the high-security prison of Ajmer (5). The jammers are not working effectively and as a result, the prisoners are using mobile phones in a secret manner," stated a letter written to the home department on July 5.
"Not only the administration is facing difficulties to curb the use of phones but the security of the jails is also being affected, and the high court is also taking these matters seriously." The letter added, "In order to prevent the prisoners from using phones and for better jamming, we request you to give approval for shifting of these 57 jammers to two central jails of Bikaner and Bharatpur, and the high-security prison of Ajmer."
The jail department demanded a budget of Rs 72.01 lakh to transfer the jammers, Rs 11.20 lakh for the establishment of new towers, and Rs 1.88 crore for the annual maintenance of the devices.
Asked why more money should be spent on jammers if they are not giving effective results, Bhupendra Singh, director general of police for jails, said, "Jammers can give better results when they are placed closer to each other. Presently, the jammers are placed far from each other and hence are not being able to give the required results."
A jammer is a mobile communications device that transmits on the same frequency range as a cellphone to create strong cell tower interference and block cellphone signals and call transmission.
Singh said, "In order to get better results, we have requested the home department to shift these jammers to three jails so that concentration of jammers could be increased and better results could be obtained; meaning more clear and audible sound could be heard if some prisoner is talking over the phone."
The jail department had also written to Bharat Electricals Limited (BEL) on May 24, expressing dissatisfaction over the jammers. BEL is the only authorised company to sell jammers in India, said a police official.
"Incidents of mobile phone use by prisoners keep coming up since the jammers placed by you (BEL) are not effective. These incidents have affected the security of the jails in a serious manner. The Jaipur bench of the high court has also directed the jail department to recover payment from the agencies who have established jammers in the jails," stated the letter written to BEL. "The expenditure of Rs 20.12 crore comes under the category of unfruitful expenditure and also raises a question mark on the implementation of the work done by you (BEL)."
Asked about the ineffectiveness of jammers, Rajeev Ailawadi, senior DGM (jammer), BEL, said in an email reply: "As per policy of our company I am not authorised to give any statement on behalf of BEL. You may contact our corporate office in Bangalore. Address and concerned person's details are available on BEL website."
Between January and May, 241 mobile phones were recovered from the seven central jails — 86 from Jaipur, 43 from Jodhpur, 41 from Bikaner, 24 from Udaipur, 15 from Kota, 22 from Alwar, and 7 from Ajmer. The recovery has set alarm bells ringing at the central jails, which house criminals and terrorists.
In June, Sampat Nehra, an aide of gangster Lawrence Bishnoi, currently locked in Bharatpur Central Jail, admitted that Bishnoi handles gang activities — arranging money to guns to logistics — from the prison through WhatsApp, Facebook, and other networking platforms.
From Jodhpur Jail, two videos were posted by Shambhu Lal Regar, jailed for hacking and burning a Muslim labourer, on social media in February, which exposed the jail security. Terrorists from Afghanistan, Pakistan, Punjab, and Jammu and Kashmir are lodged in the jail.
Asked about the recovery of mobile phones from jails, Bhupendra Singh said, "This is a matter of investigation and we are also on our toes. We conduct surprise inspections in the barracks of the jails during which these phones were recovered."
Singh added, "Many things are supplied to jail, and the phones enter the jail through them. Sometimes phones are also thrown from outside the jail walls. We have restricted manpower in jails, but we are constantly working to strengthen security."
Close