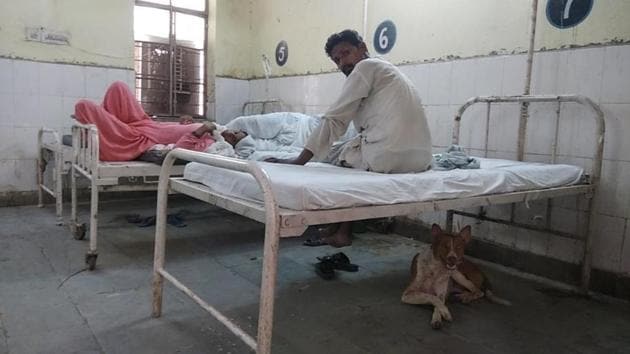 Stray dogs have a free run in Rajasthan hospital
Dogs roam freely in the wards of community health centre at Kaman posing threat to newborns and patients
Hindustan Times, Bharatpur | By Suresh Foujdar
UPDATED ON JUL 10, 2018 09:37 PM IST
Patients visiting the community health centre, Kaman, in Bharatpur not only have to fight disease but also stray dogs. The dogs roam freely around the wards and also have access to places where infants are kept.
The Kaman community health centre (CHC) is the largest health centre in the Mewat region and has 50 beds. Nearly 500 patients visit the CHC every day.
Family members of patients, who are admitted to the CHC, have to be vigilant at all times to avoid dog bites. The situation is, especially, vulnerable in the newborn ward. No security guard or hospital staff has been deployed to stop dogs from entering the health centre.
According to sources, nearly one and a half year ago, a stray dog snatched a newborn from the hospital, but people rescued the infant.
Locals blamed medical officials of apathy. They allege that the officials are waiting for an unwanted incident to take place before taking action. They also said that they have informed the officials.
"There is no security for patients who are admitted at the CHC. Stray dogs can be seen walking inside the wards. Action should be taken against the hospital in-charge for negligence," said Veer Singh Soni, a local.
"My wife, Muvina, has been admitted with diarrhoea. Now, I am worried about the dogs. They sit under the beds. The dogs can also attack children but no action is being taken by the hospital," Nasir Mev from Karmuka village said.
Refusing to answer questions, community health centre Kaman in-charge Pramod Bansal said that the chief medical and health officer or public relation officer of the department should be contacted for any query.
Block chief medical and health officer of Kaman KD Sharma said that it's negligence on the part of the CHC officials. "CHC Kaman in-charge, Dr Pramod Bansal, will be directed in writing. I will forward the complaint to the chief medical and health centre to ask the CHC in-charge not to repeat such incidents," Sharma said.
Former Congress MLA from Kaman Jahida Khan said that the negligence is shameful. "A guard should be deployed at the centre."
Chief medical and health officer Gopal Ram said that the presence of stray dogs at the CHC is definitely a case of negligence. "I will direct the in-charge of the centre to deploy a guard to stop the entry of dogs. Dogs perhaps come inside as the relatives of patients bring and eat lunch."
Ram, however, ruled out the risk of any disease spreading from stray dogs but said that they might bite patients or their relatives.
Close