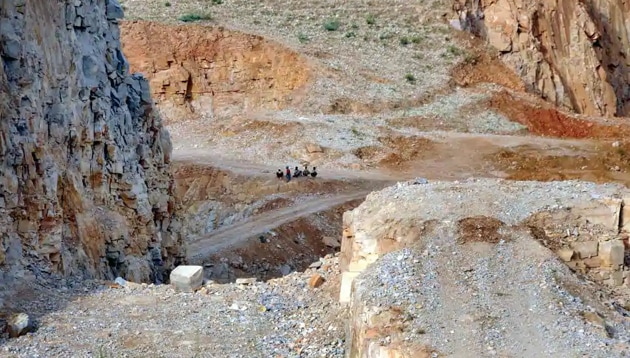 SC concerned about 31 'missing' hills in Rajasthan, sees link to Delhi air
Rampant mining in the Aravalli mountain range has led to disappearance of 31 hills which has serious environmental consequences.
New Delhi | By HT Correspondent
UPDATED ON OCT 23, 2018 03:14 PM IST
The Supreme Court on Tuesday ordered the Rajasthan government to stop illegal mining in a 115.34-hectare area in Aravalli hills within 48 hours after several hills had been razed because of over exploitation.
A bench comprising Justices Madan B Lokur and Deepak Gupta said it was compelled to pass the order because Rajasthan has taken the issue "very lightly".
The bench directed the chief secretary of Rajasthan to file an affidavit regarding compliance of its order. The court was hearing a matter related to illegal mining in Aravalli hills. The apex court also referred to a central empowered committee report that 31 hills or hillocks have vanished in the state's Aravalli area.
The disappearance of hills in Rajasthan could be one reason for the rise in pollution levels in Delhi, the court said.
In February this year, a Comptroller and Auditor General (CAG) report said Rajasthan's mines department granted, renewed and extended mining leases violating Supreme Court's orders against mining in the Aravali mountain range.
Illegal mining in Rajasthan which has a rich reserve of copper, lead, zinc, rock phosphate, soapstone, silica sand, limestone, marble and gypsum in the Aravalli mountain range has razed several hills over the years.
The report said environmental issues related to mining were not given attention by the department and Rajasthan State Pollution Board. The Rajasthan government had also come under fire from rights activists for failing to check illegal mining which exposes workers to life-threatening health hazards.
Close