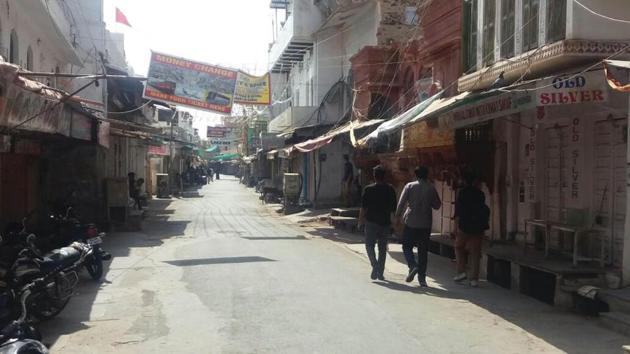 Tension in Pushkar, Gandhi statue vandalised in Nathdwara
However, situation remained 'largely peaceful' in the state on Wednesday
UPDATED ON APR 04, 2018 11:31 PM IST
Two days after the state was rocked by Dalit agitation and a day after tension in Karauli's Hindaun, the situation remained "largely peaceful" in the state on Wednesday. However, a confrontation between members of two communities took place in Ajmer's Pushkar while a statue of Mahatma Gandhi was vandalised in Rajsamand's Nathdwara.
Ajmer superintendent of police Rajendra Singh said on Wednesday members of a non-Dalit group passed some remarks at a group of Dalits who were returning from Pushkar Sarovar. "The latter had gone to take a dip in the holy Sarovar after performing the last rites of one of their community members," said Singh.
Police said there was a brawl between the two groups following which more persons from the non-Dalit groups amassed and tried to shut shops. The situation turned tense and markets were closed following the incident.
Besides the massive force deployment, the police also engaged leaders of the two communities to neutralise the tension. "Leaders of both the communities agreed to work towards normalising the situation after talks," said Mahaveer Sharma, station house officer, Pushkar.
In another development, a statue of Mahatma Gandhi at Valmiki Colony in Nathdwara was vandalised by some miscreants late on Tuesday night. The statue was found with its head severed and stones placed near the statue were also vandalised.
The incident came to light after passers-by informed the police about the mishap on Wednesday morning. The police arrested three persons in connection with the crime later in the day. The arrests were made after father of one of the accused informed the police about his son's involvement in the act.
Besides, security forces carried out a flag march in Hindaun and Jalore on Wednesday to restore the confidence of the common people. Curfew was also lifted in Hindaun from 1 pm to 6 pm. Prohibitory orders under Section 144 of CrPC, however, remained in place in some parts of the district and internet services also remained suspended in some parts.
About 185 cases were registered in the past three days for rioting, vandalism and arson across the state and over 1000 people were arrested on various charges.-
Close