Transgender group organizes wedding for poor Hindu, Muslim women in Rajasthan's Bharatpur
Updated on Nov 02, 2017 08:42 PM IST
In a unique initiative taken up by a transgender group in which Hindu and Muslim daughters from impoverished families were married off at mass wedding ceremony in Rajasthan's Bharatpur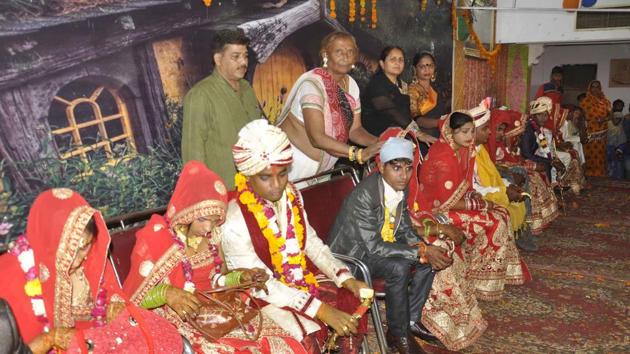 In a unique initiative taken up by a transgender group in which Hindu and Muslim daughters from impoverished families were married off at ceremony in Bharatpur on Thursday.
Ten couples, including five Hindus and five Muslims, tied the knot at the ceremony according their religious rituals.
The ten women belonged to poor families whose parents were not in a financial position to get them married, says Nettu Bai, head of the transgender community who has been organizing joint wedding programme every year since 2012.
Besides bearing the wedding expenses, the group also offers ornaments, clothes, feasts for the guests, she says.
"We save money every year to organize the weddings of daughters of poor families but never accepted donation from people for the ceremonies."
Popularly known as "mausi", Nettu Bai was elected as the corporator of the ward no 29 of the Bharatpur Municipal Corporation in November 2014.
A social worker, who has dedicated her life to work for betterment of girls from impoverished families, Nettu Bai has over the years organsied marriage ceremonies for more than 60 poor Hindu and Muslims women in her ward.
Nettu Bai deposits Rs 4,000 every day to organize the mass weddings every year.
She says she visits poor families and indentifies girls from impoverished families that do not have the means to marry off their daughters and then selects 10 of them for the mass weddings every year.
"I have been giving massages to the society to save the girl child and requests people to give their daughters to the group if they are unable to feed them," says Nettu Bai, who also takes care of the daughters after their marriage.