Two research centres to come up in Rajasthan for testing glanders disease in equines
The animal husbandry department will soon set up two research centres for primary investigation of glanders disease among equines in the state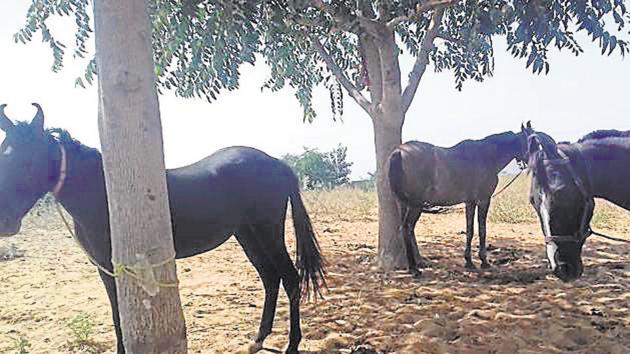 Updated on Nov 06, 2017 07:52 PM IST
The animal husbandry department will soon set up two research centres for primary investigation of glanders disease— an infectious disease that occurs primarily in horses, mules, and donkeys— among equines in the state.
Animal husbandry minister Prabhu Lal Saini, while speaking to HT, said, "The two research centres will come up at Jodhpur and Udaipur."He added that at present initial investigation of the disease is being done at a laboratory in Jaipur and they send the serum to National Research Centre for Equines in Hissar for confirmation.
The disease came to Rajasthan from Uttar Pradesh, Madhya Pradesh and Gujarat. People working at brick kilns travel on donkeys, mules to work in Rajasthan and that's how the disease spread among the equines in Rajasthan.
So far 27 equines were affected with glanders, out of which 12 have been euthanised. The others have died or the owners, along with the infected equines, have absconded.
The minister said that so far compensation of Rs 2.28 lakh has been distributed among owners of equines that have died or been euthanized.
The first case of glanders was reported from Rajakhera in Dholpur district on November 15, 2016. A horse and a mule were euthanised, while the owner of another mule absconded with the animal and a donkey died of disease.
Later between March 2017 and August 2017, three horses and 16 ponies were found infected with the disease in Udaipur and two were euthanised, while one died. Of 16 ponies, seven were euthanised and the owners of nine ponies went absconding and Uttar Pradesh was informed about it. In Rajsamand district, two horses and a mule were found infected. The mule and horse died, while another horse was euthanised. In Ajmer, a horse was euthanized.
From April 2017 to October, a total of 3,912 serum samples were collected from Ajmer, Nagaur, Tonk, Kuchaman City, Bikaner, Churu, Hanumangarh, Sriganganagar, Bharatpur, Dholpur, Karauli, Sawai Madhopur, Jaipur, Alwar, Dausa, Sikar, Jhunjhunu, Jodhpur, Barmer, Jaisalmer, Pali, Sirohi, Kota, Baran, Bundi, Jhalawar, Udaipur, Banswara, Chittorgarh, Dungarpur, Rajsamand and Pratapgarh, while 31 nasal swabs were collected from Dholpur.
The animal husbandry had appealed to people not to use mares and horses for marriage processions, as auspicious dates for marriage started from October 31. Saini praised people for their cooperation.
He also said that there is no need to be scared of glanders, as animal husbandry department is keeping a strict watch.
Close Story
Personalise your news feed. Follow trending topics