US student sets up sanitary pad machine in Raj village
Published on Jun 24, 2016 08:46 PM IST
Devika – a 12th grader – has undertaken the task as part of her girls scout project, which requires her to fulfil an 80-hour-long sustainable project that serves less fortunate communities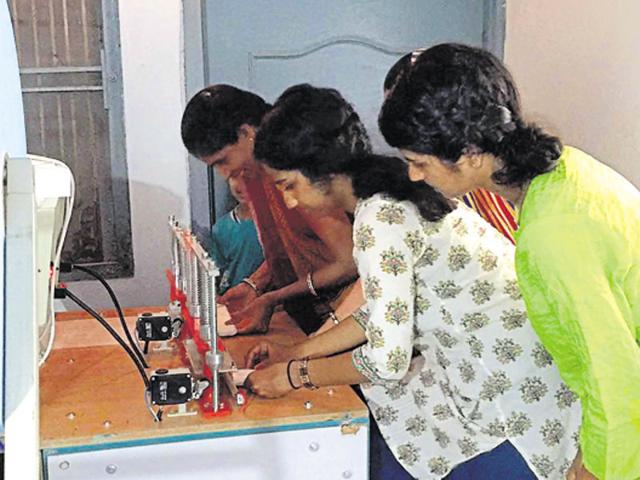 Seventeen-year-old Devika Chhipa Kumar, a student at the Westwood High School in Austin, believes she owes her father's native district of Jhalawar in Rajasthan a responsibility. Aware that its residents aren't sensitised to matters concerning menstrual hygiene, she has come down to install a cost-effective sanitary pad manufacturing machine that will not only ensure better health among the village's womenfolk but also provide them with a steady source of income.
Devika – a 12th grader – has undertaken the task as part of her girls scout project, which requires her to fulfil an 80-hour-long sustainable project that serves less fortunate communities. Put up with her parents at Jhalawar town, she has installed the sanitary pad machine in the Dityakheri panchayat zone – where the lack of awareness on menstrual hygiene is especially acute.
"I want to sensitise the rural women in my father's homeland, where menstruation is still believed to be taboo. The use of sanitary pads is not widespread either, mostly due to their unavailability and unaffordability," the student said, adding that her father, Vijay Kumar Chhipa, and mother, Pratima, couldn't have been more supportive.
Devika hit upon the idea when she heard about a South Indian engineer called Muruganantham, who had created a cost-effective sanitary pad-making machine. She then began raising money from friends, relatives and well-wishers to set up a unit at Dityakheri. "Sanitary pads manufactured through this machine can be used by womenfolk of the village, and sold too. A single pad usually costs Rs 5, but this machine can make it for just Rs 2," she said. "The sanitary pad manufacturing machine has five units, which manufactures six sanitary pads in 15 minutes and up to 20,000 in a year."
Meanwhile, Devika's family is touring the five villages under Dityakheri panchayat to educate their women on the importance of menstrual hygiene. Pratima said staffers from Muruganantham's factory are training five rural women to operate the machine. More women will be included under the project once they start selling the sanitary pads locally.
The project won't be restricted to Jhalawar either. "Depending on the success of the machine here, we will take up similar projects in other parts of the country," Pratima said.
Thirty-year-old Santosh Patidar, who is being trained to operate the machine, said they will start selling the sanitary pads as soon as they have mastered the manufacturing process. Asha, her colleague in the cause, said she expects the pads to be well-received among locals because of the inexpensive pricing.
Devika believes the machine will go a long way in improving the way rural women live. Citing a UK-AID report, she said as many as 23% of the girls in India's rural zones quit school due to "monthly periods" – causing irreversible harm to their future prospects. "Around 56% are not told why menstruation occurs, making them believe it's a disease… it is a taboo subject," she said.
Vijay, an IIT-Kharagpur alumnus, is employed with a multinational firm in the United States. The family has been settled there for the last three decades.