Women e-rickshaw drivers to take tourists around the Pink City, to double up as guides
Aug 27, 2017 08:01 PM IST
At present there are 40 women e-rickshaw drivers in Jaipur, the number will go up to 200.
Tourists looking for sightseeing services in the Pink City can now book environment friendly e-rickshaws driven by women, who also double up as a guide.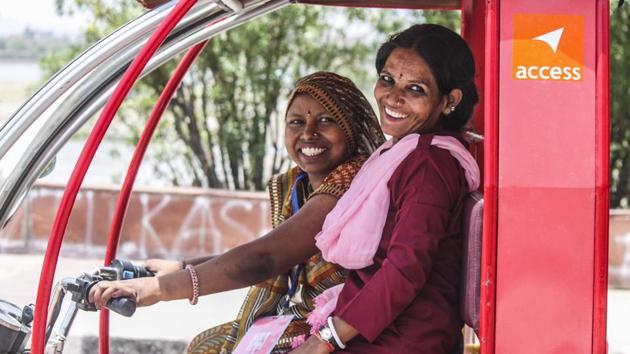 A not-for-profit organisation has trained women from the weaker sections of the society to drive the battery-operated e-rickshaws that have been modified and painted pink. "A public limited company – Pink City Rickshaw Co – has been formed with equity participation from about 40 women e-rickshaw drivers and the number will be eventually increased to 200," founder Radhika Kumari told HT.
The company has tied up with hotels and tour operators to offer customised tour packages.
"The project focuses on training women, ideally in the age group of 18-35, selected from weaker sections of society. It has opened a new channel of income for these women after their training in rickshaw driving and soft skills. They have smart uniforms and are groomed to interact with tourists," Radhika said.
"We offer three tours – heritage, crafts and shopping. A tourist circuit has been designed keeping in mind the tourists who want to visit the historical sites in the city, but are hesitant to manoeuvre the congested streets on their own," she said.
One of the drivers, Renu Sharma, said that apart from earning she was doing driving the rickshaws as she was enjoying the job. "My husband runs a paan kiosk, and was supportive of my decision. I did not face any opposition from other family members either. I have been trained to interact with tourists, including foreigners, using a few English words and it's not difficult," she told HT.
"At times, we also offer suggestions on places to visit to the tourists," she said.
Another driver Pushpa Devi said that initially she faced some opposition from her family, but now they have no issue with her job.
The e-rickshaws have been modified by Jaipur-based NID graduate Ayush Kasliwal. The modified vehicle has a collapsible canopy and ergonomically designed seats, mechanical improvement for greater safety and also a locker for safekeeping of belongings of the clients, a mobile charger, water bottle holder, city maps and so on. The e-rickshaws also have an IVRS app installed with the pre-marked routes, which prove to be helpful for both tourists and add a secured system for operations for women drivers.
"It's a first of its kind service in Jaipur and garnering a lot of support from different agencies, most of the niche hotels, as well as travel companies who want to offer unique experiences. It's a novel way of getting introduced to the city and exploring the hidden by-lanes," Radhika said.
Chief minister Vasundhara Raje will formally inaugurate the project in September.