Dwindling earnings force app-based cab drivers in Bengaluru to unionise
Cab drivers with Ola and Uber blame their companies, accusing them of colluding with each other to drive down their incentives. They had organised a protest rally to voice their demands on January 23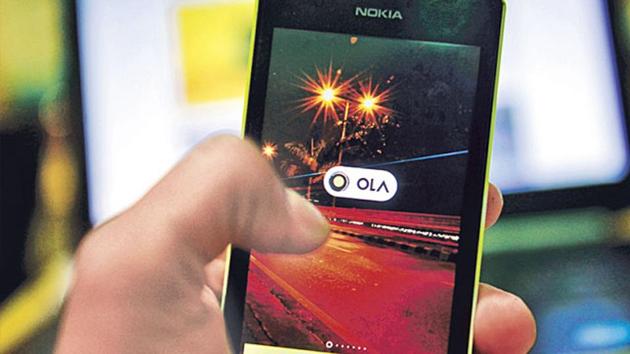 Updated on Feb 02, 2017 05:09 PM IST
"My cab has been sitting idle for the last two months now," says Tanveer Pasha. "I have been very busy with union work."
Pasha, a 32-year-old driver attached to Ola, India's largest app-based cab hailing service, is also the coordinator of the Ola-TaxiForSure-Uber Owners and Drivers Association.
Pasha and his associates had created quite a stir in Bengaluru on January 23, when they organised a protest rally against a steep decline in the earnings of those attached with Ola and Uber. The cab drivers blamed the companies for this, suggesting that they were colluding with each other to drive down incentives and, hence, the earnings of drivers.
"When I joined this business three years ago, I was making a lot of money," Pasha says. "There were weeks when I earned around Rs 40,000."
Pasha, a father of two, says he started off by leasing a cab. "My friend had a vehicle that I leased out. I hired a driver too. But business was so good that I decided to buy my own cab for Rs 7.5 lakh, a Swift Dzire, and decided to do away with the driver as well," he adds.
Initially, incentives were paid on completing 10 trips a day. "However, they then increased this limit to 14 trips and then to 18."
Pasha says Bengaluru's perennially choked roads make it virtually impossible for the cab drivers to reach the new target. In fact, a recent study by the Bangalore Development Authority estimated that the city faced an annual loss of Rs 3,700 crore due to traffic congestion.
Premnath Shetty, 43, who is attached to both Ola and Uber, highlights another problem that drivers face. "Initially, the companies used to deduct 10% from our earnings as commission," he says. As the commission was so low and drivers were paid an additional incentive, the extremely low prices charged by the firms did not matter.
"When I saw that my neighbour in Mangaluru had earned Rs 1 lakh within a month of joining Uber, I liquidated my stable goods transport business and bought a Toyota Etios before shifting to Bengaluru," Shetty says. "The amount the customers were charged did not matter to us, even though taking a cab was cheaper than hiring an autorickshaw."
However, things changed about a year ago. The commission was increased to 20%, and deducted from each trip as well as the consolidated earnings credited to the accounts of the drivers, Shetty says. The increase in commission, coupled with the high limits for earning incentives, resulted in a significant slump in their earnings.
"When I am assigned a trip, I have to bear the cost of the fuel required to reach the customer, and for the trip itself. But the customer is only charged for the trip," Shetty explains.
With Ola charging as low as Rs 6 per kilometre for the Micro category, earnings weren't sufficient in themselves, says Pasha. There was another problem, too. "We were initially paid Rs 5,000 for introducing new drivers. However, because of that, we don't get enough trips now," he adds.
Both Uber and Ola refused to comment or provide information on the number of cabs plying on Bengaluru roads. The transport department was also clueless about the figure.
In 2016, Karnataka became the first state to regulate the cab business by introducing the Karnataka On-Demand Transportation Technology Aggregator (OTTA) rules. Under this, app-based cab aggregators with a minimum of 100 cabs had to apply for a licence.
According to officials at the transport department, both Ola and Uber registered 100 cabs – the bare minimum required. Going by this, it can only assume that 200 cabs attached to the two companies ply in the city. However, analysts at RedSeer Management Consulting estimate that there are around 90,000 cabs attached to Ola and Uber in Bengaluru.
The primary objective of OTTA rules was to regulate the surge pricing model used by firms in the online taxi-hiring space, which is estimated to be worth $1.5-2 billion in India. According to them, the maximum a customer can be charged per km is Rs 14.5 for non-AC cabs and Rs 19.5 for AC ones.
However, cabbies seem to have misunderstood the intention behind the rules. "We have demanded that the companies pay us the minimum amount stipulated," says Pasha.
Transport commissioner MK Aiyappa clarifies that the rules do not allow any such minimum payment for drivers. "The idea is to cap the maximum a customer can be charged. How much lesser than that the companies charge is not for us to decide," he says. "There's nothing we can do even if the companies charge the customer Re 1 per km."
Highlighting the crux of the strategy employed by the two firms, a RedSeer analyst says, "As more and more consumers and drivers become dependent on the platform's services, service providers have decided to cut down on the cash burn by reducing incentives."
Ola has also introduced an alternative model where it leases out cabs to those willing to pay an upfront amount. "Under the leasing model, Ola deducts Rs 1,000 a day from the driver," Shetty says. "They are no better off than people like me because the problem remains the same – there are too many cabs."
Now, with desperation levels rising, cab drivers have decided that forming unions is the only way to ensure they get their due. "I have never been involved in such an organisation before," Pasha says. "But then, because I have a two-and-a-half acre farm on the outskirts of Bengaluru, I am better placed than many others who have left everything behind and relocated to this city."
The cab driver says they have 17 WhatsApp groups with 256 members each – the maximum number of people that can be added. "The unusual structure is a product of necessity," he explains. "None of us have experience in running a union, and this is the first such organisation for drivers that we know of."
Shetty, however, is not convinced. "I did join the protest, but I am not going to join any union. I just want the companies to increase our earnings," he says.
Close Story