Activists write to PMO to raise Atreyee river issue during Hasina visit
May 24, 2018 09:17 AM IST
Lifeline to thousands in Bengal's South Dinajpur district, the riverbed goes dry in summer, especially after Bangladesh constructed a dam a few years ago, locals allege.
Even as water sharing of the Teesta river continues to be thorny issue between India and Bangladesh, people of Bengal's South Dinajpur district are expecting that the question of rejuvenation of the Atreyee river will come up when Prime Minister Narendra Modi and his counterpart from Bangladesh Sheikh Hasina meet in Santiniketan on Friday.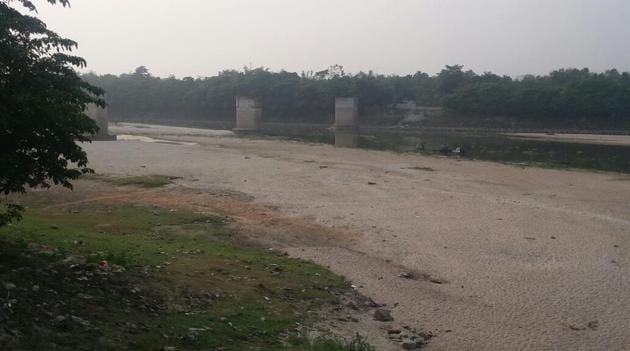 The Atreyee river that finds mention even in the Mahabharata, flows from Bengal's Siliguri into Bangladesh before flowing back into South Dinajpur district.
Read: PM Modi, Sheikh Hasina to hold bilateral talks at Santiniketan on May 25
Modi, Hasina and Bengal chief minister Mamata Banerjee would be present in the university town of Visva-Bharati at the convocation of the institution that Tagore founded. The Indian Prime Minister is the chancellor of the university.
Later Modi and Hasina will also inaugurate a Bangladesh Bhavan in the university campus.
About 390 km in length, the Atreyee is a source of livelihood to thousands of fishermen and provides water for irrigation for farmlands in a vast region of the district.
Read: India committed to Teesta issue, PM Modi assures Bangladesh
The people of Balurghat town in South Dinajpur have written to the PMO to include the Atreyee river issue in the meeting with Sheikh Hasina, who is eager to sign a water sharing treaty with New Delhi before the country's general elections later this year.
"The Atreyee river is one of the most important cross-border rivers flowing between India and Bangladesh. It is the life line of South Dinajpur district. But now it is facing serious threat after the Bangladesh government constructed a dam at Mohanpur of Dinajpur district," alleged Tuhin Subhra Mandal, an environment activist based in South Dinajpur.
Since Bangladesh gets very little rainfall in winter, the country is building these dams – popularly known as rubber dams – that involve a cost effective technology to retain surface water for use during lean periods.
Read: Teesta has no water to be shared, says Mamata Banerjee in north Bengal
The one on the Atreyee benefits around 7,000 hectares of farmland supplying water for irrigation apart from helping fishing. Construction work was completed in 2013.
"PMO's under secretary (public) Ambuj Sharma acknowledged receipt of our appeal. I am sure that the Bangladesh Prime Minister will try her best to push for the Teesta pact. I hope our leaders should take the advantage of this to address the Atreyee issue," remarked Mandal.
"There was sufficient water in summer even 10 years ago. But over the past few years, the river runs dry during summer. This year, however, there is a little water since it has been raining frequently in north Bengal," said Sudip Kumar Baul, a resident of Balurghat.
Read: We are looking forward to Narendra Modi's assurance on sharing Teesta waters: B'desh minister
Thousands of people of West Bengal's South Dinajpur district depend on the river for their livelihood. "There is a big fisherman community in South Dinajpur. Thousands of farmers use the water of the river for cultivation. Till few years ago, many used the river water for cooking too. This year, despite the frequent rains, vast dry patches have emerged on the river bed near Sadar ghat and some other areas," said Mandal.
"The Bangladesh authorities are controlling the flow of the river. They are channelising excess water to India during monsoon that is causing floods. But during the summer Bangladesh release very little water from the dam," he alleged.
Problems of siltation led locals to form "Atreyee Bachao Andolon" (Save the Atreyee) movement since 2006 in the district. They are now demanding that the government should form a 'Joint river commission' to save the dying river.