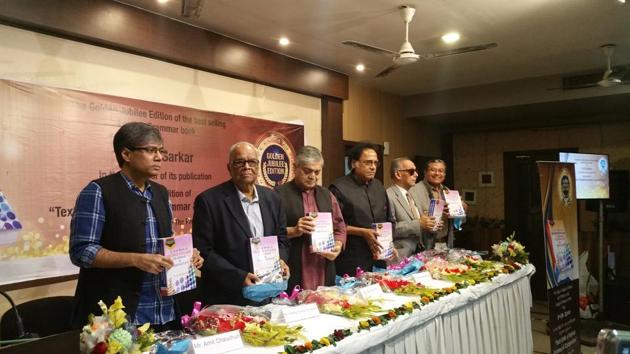 Book that taught English grammar to Bengalis turns 90
Prafulla Kumar De Sarkar, and his book 'High English Grammar and Composition' became a bible to countless Bengalis trying to learn correct English.
PUBLISHED ON DEC 27, 2016 10:21 AM IST
Generations of Bengalis who are proficient in English, and also less skilful ones who managed to pass their school exams, ought to be grateful to the librarian of Martin Burn who refused entry to a young Bengali employee in the library that was reserved only for the British. Snubbed by the officious librarian, the man kicked his job, took up teaching and compiled a book on English grammar – quite an act of rebellion during the Raj when students and teachers swore by Henry Watson Fowler and John Nesfield.
The rebel was Prafulla Kumar De Sarkar, and his book High English Grammar and Composition quickly became a bible to countless Bengalis trying to learn correct English. On Monday, the 90th year of the publication of the book, Sarkar's family members and a few prominent citizens celebrated the golden jubilee edition of the historic book.
History it was by any yardstick. Rarely earlier was a book written in a rebel act – Sarkar did not take the life of a single British with a bullet or a bomb, but he successfully killed British vanity with his book. In a sense, that put him in the same bracket with Acharya Prafulla Chandra Ray (1861—1944) who urged people to take to entrepreneurship as a step towards 'liberation', and Rajshahi's Maitra brothers – Nani Gopal and Shankaracharya – who founded Sulekha Works in 1934 to generate employment in Indian companies. At another level the frail 'mastermoshai' could also be compared with Ranjitsinhji (1872--1933) the prince and the cricketer, who took the British by utter surprise with the willow in their own game in their homeland.
In fact, standing just 10 years away from a remarkable centenary year, it was impossible to tell who/what was the bigger star – the man or his creation. There were also moments when both merged.
In a small function at Kolkata press club on Monday one of the most prominent English authors of modern India, Amit Chaudhuri, picked up "the supreme need for this open mind…" to emphasise how the grammarian rose above the rigours and rigidity characteristic of a grammarian and argued for openness to accommodate new changes and usages. Chaudhuri, who studied in a Bombay school, said that grammar was not taught in upper classes and he would find the book useful in catching up with overdue lessons.
Former director of IIM-Calcutta, Subir Choudhury, described Sarkar as a revolutionary with a pen, whose descendants have kept nurturing the 'great creation' with zeal to keep the book alive to the needs of a changing marketplace and pedagogic needs.
When he wrote his seminal work, Sarkar was the headmaster of Bholanath Bisweswar Hindu Academy in Rajsahi. In 1948 he migrated to Kolkata but did not take up a job, depending on the royalty of his book to run his family.
"He occasionally did some work for a publishing house, but only asked for tickets for cricket matches in lieu of his labour," said Pabitra Kumar De Sarkar, his eldest son. At 84, he diligently carries out the additions and modifications every time the book goes to a new edition.
But how did it steal a march over Fowler, Nesfield and Wren and Martin? "My grandfather knew the weakesses of the Indian student and focussed on how to address them," the grammarian's grandson Partha told HT.
"In an age when learning grammar is not viewed as important by most schools, the book still sells about 20,000 copies a year," said publisher Biplab Bhowal. He pointed out it was the only textbook to be printed by the government-owned Swaraswati Press.
Till his death in 1974 at the age of 82, Sarkar kept adding to his book. Thereafter, his son took over in keeping the book relevant to the needs of the students. The family now solves IAS questions of English and incorporates the answers in the book.
Chaudhuri described the grammarian as specimen of a lost league of extraordinary gentlemen, who were thoroughly Bengali outwardly from their apparel to pronunciation but wrote impeccable English. "They constituted an extraordinary class like Buddhadeb Bose," he quipped.
But Sarkar's spectacular success concealed a rather surprising 'failure'. He couldn't inspire any of his four children to take up English as a formal subject of study – two of his sons were engineers and two daughters studied micro-biology.
Close