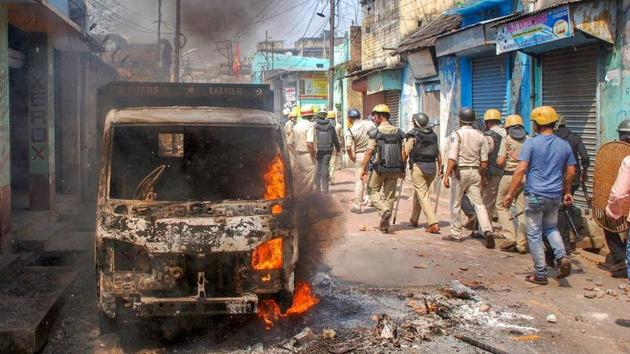 Kali temple committee repairs mazar in riot-hit Asansol
The committee has also put up a banner at the site declaring their involvement in the repair work to prevent similar attacks in future.
Hindustan Times | By Koushik Dutta
PUBLISHED ON APR 04, 2018 12:47 PM IST
After the injury, the emollient. Members of a Kali temple committee have repaired a mazar that was damaged in riot-hit Asansol town of West Bengal, setting up the second instance of one community reaching out to the other in times of hatred.
The committee repaired the mazar and put up a banner at the site that the job was undertaken by a temple committee. The objective was to prevent criminals indulge in similar vandalism in future.
Read: Won't name anyone as suspect, says imam whose son was killed in Asansol clashes
Last week, Moulana Imdadul Rashidi, an imam of a local mosque restrained a crowd from launching retaliatory attacks after his own 16-year-old son, Sibtulla Rashidi, was found killed after he disappeared on March 27. He also refused to name suspects to the police apprehending it might lead to harassment of innocents.
On the morning of March 28, locals of Depot Para of Railpar area found the mazar was damaged. Railpar area was rocked by clashes the day before.
"We are old residents of this area. We have witnessed a situation like this. Some of us also pay our respect to the shrine when we cross it. After the damage, on behalf of the temple committee, we decided to repair the mazar," said Malay Majumder, 55, a trustee of the Dakhina Kali Temple.
Read: Muslim youth refurbishes Hanuman temple in Bengal
"We also hope the banner declaring the association of the temple committee with the Muslim shrine would restrain vandals in future," added Majumder.
"The committee also made a small financial help to members of two Muslim families whose houses were set ablaze on March 27," he added.
"We welcomed the step of the Kali Temple committee. We have been living here for a long time in a climate of harmony," said Osman Gani, a local.
On Monday afternoon, after prohibitory orders under section 144 was withdrawn, thousands of residents of Asansol organised a peace rally.
Read: Nearly 300 killed in 2,276 communal violence incidents in 2015-17: Govt tells RS
Incidentally, in Purulia town, Mohammad Pappu, a small businessman refurbished a Hanuman temple with his savings and the renovated temple was inaugurated on March 31, the day of Hanuman Jayanti.
Ironically, the recent spate of communal flare-ups started in Purulia district on March 25 when 50-year-old Sheikh Sajahan, was killed in Beladi village of Purulia district. He was killed when he was caught in clash that broke out when a Ram Navami procession was passing a mosque.
Close