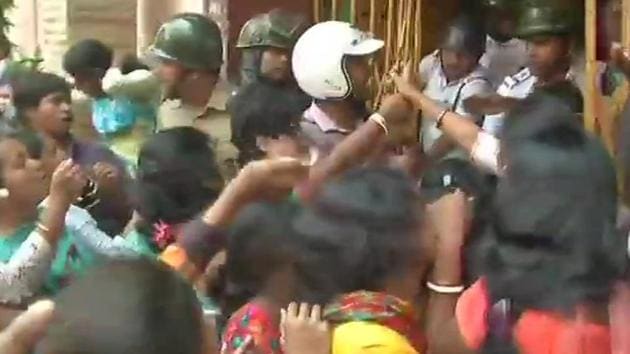 Police in Kolkata clash with parents outside school after allegations of teacher molesting girl surface
A six-year-old girl student was allegedly sexually assaulted by a male teacher in a school in Kolkata. Clashes erupted between police and parents after the latter started demonstrating in front of the school.
Kolkata | By HT Correspondent
UPDATED ON OCT 09, 2018 03:42 PM IST
Kolkata police on Tuesday baton charged an agitating group of parents and guardians who tried to storm a school following rumours that a teacher who allegedly sexually harassed a six-year-old girl last month, was hiding in the school.
The accused teacher was arrested, said a police officer. The alleged sexual harassment took place on September 26. Protests began Tuesday morning as guardians gathered outside the girls' school in Dhakuria, a middle class neighbourhood in south Kolkata.
"The accused has been arrested. We appealed to the guardians to understand that the law will deal with the accused," said Kalyan Mukherjee, deputy commissioner, Kolkata Police.
TV channels played images of a woman bleeding profusely from the forehead after she was allegedly hit by the policemen. Policemen who rushed to the spot alleged that the protesters pelted stones at them. Police said they were also targeted by residents of houses near the school .
The protesters vandalised a two-wheeler parked outside the school that allegedly belonged to the accused teacher.
"When the mob violent the police had to apply force to protect the property of the school. Three persons who were with the guardians and were found to be involved in attacking the cops have been detained for further investigation," said Mukherjee.
Ten policemen including the officers-in-charge of two police stations were injured in stone pelting, he said .
The guardians of the victim lodged a complaint of molestation at Lake police station at 6 am on Tuesday, said police officers. However, the school management had no knowledge of the complaint.
Later at a meeting involving parents, school authorities, the police and a local councillor of Kolkata Municipal Corporation after peace had returned, the parents demanded that only female teachers should be employed.
"Guardians demanded that all male teachers be removed from the girls' school. I shall speak to the education minister on this point. For the time being it has been decided that only female teachers will take classes till class 5," said councillor Ratan Dey.
Close