Sex workers in India's largest red light area all set to get moneywise on new notes
Published on Dec 16, 2016 11:14 AM IST
Sex workers, considered most vulnerable are all set to undergo training to spot fake new notes.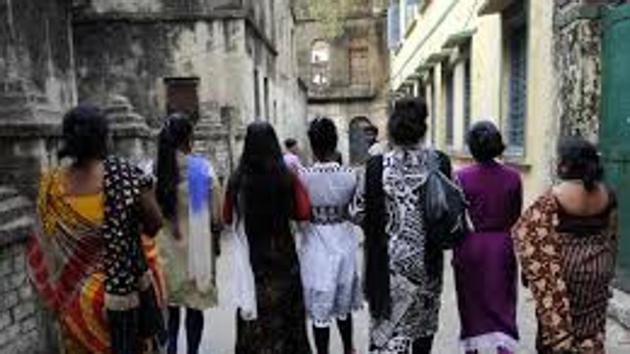 At a time serpentine queues outside banks and ATMs on one hand and the wave of I-T raids throwing up crores worth of black money stash on the other represent the two extremes of the fallout of the shock recall of high-value banknotes, the sex workers of Kolkata are bidding to get savvy telling fakes from original currency notes.
Home to India's and South East Asia's largest red light area, Sonagachi would soon be witness to sex workers being trained to spot fake notes.
Sex workers have always been deemed the most gullible and vulnerable when it comes to pushing fake notes into circulation. While they lack the knowledge or awareness to spot fakes, they are also least likely to go to cops if paid with counterfeit currency. Often, some are too drunk to care.
However, with the big bang demonetisation being seen as a war on black money and counterfeiting, the Durbar Mahila Samanway Committee, an organisation for sex workers, has asked its Usha Multipurpose Co-operative Society (co-operative bank for sex workers) to tailor a training course aimed at helping them differentiate between original and fake notes.
The co-operative bank for sex workers is believed to be the only one of its kind in Asia.
"We've planned to launch a training programme for sex workers to help them identify fake notes. Red light areas are considered the prime spots for channelling counterfeit currency and these hapless girls don't go to the police fearing harassment," Bharati Dey, secretary of Durbar Mahila Samanway Committee, told HT.
The sex workers draw plenty of random clients in a day's shift and most can't be traced even if found to have solicited sex with counterfeit currency.
"In 2011, we held training camps for sex workers to tell real notes from fakes. However, since the old Rs 500 and Rs 1,000 notes have been pulled out and new Rs 500 and Rs 2,000 notes introduced, we felt it's time they underwent fresh training," Dey said.
Even a conservative estimate pegs the number of sex workers at Sonagachi at over 11,000 (not including those underage or living illegally). The Committee has over 30,000 registered members across the state.
"We've planned to launch the programme sometime in January or February. We've already had currency identification machines installed at our clinics apart from holding outreach programmes (for sex workers). We'll make them aware of the security features in the new currency notes. Many of our members are coming forward, asking to be trained," Santanu Chatterjee, finance manager of the co-operative bank, told HT.
There are 29,772 sex workers throughout Bengal who are members of the co-operative. DMSC plans to even go beyond Sonagachi and to other red lights areas including in Bowbazar and Kalighat with the training.
Officials and volunteers would reach out to sex workers are teach them the various security features of the new Rs 2000 and Rs 500 notes.
Sex workers including those in Sonagachi are among the hardest hit after demonetisation, with drop in clientele following the cash crunch.
Close Story
Personalise your news feed. Follow trending topics