Ovarian cysts: Warning signs, causes, types, treatment and all you want to know
Jan 17, 2023 03:43 PM IST
Ovarian cysts are more common in women than you may think. They can even be asymptomatic. All you want to know about the warning signs, causes, diagnosis and treatment of ovarian cysts.
Ovarian cysts are common in women and can develop due to different reasons. They are seen in about 25% of women of reproductive age group in India. An ovarian cyst is a fluid or semisolid material-filled sac that forms on or within one or both of your ovaries. In your pelvis, your ovaries are small organs that play a key role in holding egg cells and making hormones. The size of a cyst can vary and larger cysts may lead to more complications.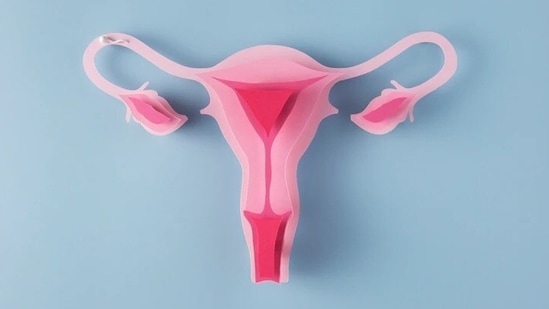 Large ovarian cysts can cause symptoms like sudden and severe pelvic pain, nausea and vomiting. They could even rupture and cause severe pain and bleeding inside the pelvis. In very rare cases, an ovarian cyst can become infected or even cancerous. Ovarian cyst can sometimes go unnoticed too if they are smaller in size and they may not even cause any symptoms. Women with hormonal problems, PCOS or with endometriosis have higher chances of developing ovarian cysts. These can be treated by hormonal treatment or surgery depending on the severity of the cyst. (Also read: 15 kgs ovarian cyst removed from 71-year-old woman)
WHY WOMEN DEVELOP OVARIAN CYSTS
Pelvic infections, hormonal problems and even pregnancy complications can lead to development of ovarian cyst. However, not all of them are dangerous and some of them can be managed with ease.
"The risk of having an ovarian cyst is higher with hormonal problems due to taking a fertility drug that causes you to ovulate, for example clomiphene or letrozole. Even after conceiving, sometimes, the follicle that is left after ovulation (known as corpus luteum) can form a cyst which can persist throughout pregnancy and can sometimes grow larger. Endometriosis is another condition wherein tissue similar to the lining of the uterus can attach to your ovary and form a cyst. Also, severe pelvic infection involving the ovaries can cause cysts. Lastly some pathological tumours can present as ovarian cysts like dermoids and serous cystadenoma etc. Women who have ovarian cyst once are more likely to develop it again," says Dr. Nisha Kapoor, Director & HOD, Department of Obstetrics Gynaecology & Advanced Gynae Laparoscopy, Marengo QRG Hospital, Faridabad.
"An ovarian cyst is a sac filled with fluid or semisolid material that forms on or within one or both the ovaries. One in every 4-5 women in India suffer from different types of ovarian cysts (20-25% incidence). It may be caused by hormonal imbalance, pregnancy, endometriosis, severe pelvic infection, genital tuberculosis," says Dr Brinda Patel, MBBS, MS (Obstetrician and Gynecologist) Daffodils by Artemis, Jaipur explaining the possible reasons behind ovarian cyst.
HOW CYST IMPACT A WOMAN'S HEALTH
Many cysts resolve on their own, but some can cause pain, bloating and menstrual irregularities. There is a risk of rupture too and in very rare cases, there is a risk of a permanent damage.
"Depending on the type, size of the cysts and whether it is one sided or in both the ovaries. Large cysts may compress the ovarian tissue and damage it. Sudden torsion may result in loss of blood supply to the ovarian tissue and harm it. Some cysts are due to hormonal imbalance for which a dietary modification like having a low carbohydrate diet would help. Most of the cysts are benign, smaller ones may even be without any symptoms and may resolve spontaneously. However, some can cause pain, bloating, cyclical irregularities. Rarely the cysts may undergo torsion, or haemorrhage or rupture and will need immediate attention. Permanent damage may occur in a few situations specially in cases where the ovarian tissue is removed surgically or there has been long standing compression or torsion," says Dr Nidhi Khera - Director & Head, Obs and high-risk Pregnancy, BLK-Max Centre for Women Health.
Dr. Radhamany K, Clinical Professor & Head, Obstetrics and Gynaecology, Amrita Hospital, Kochi
talks about the warning symptoms of ovarian cyst that you shouldn't ignore.
- It presents commonly in young or reproductive age group
- Ovarian cysts usually are asymptomatic, do not cause weight loss or anorexia, can be detected incidentally.
- Some can present with dull aching pain and abdominal mass
- Acute severe pain occurs in torsion, rupture, haemorrhage or infection of ovarian cyst
- Menstrual disturbances like delayed menses, absence of menstruation and anovulatory cycles.
Painful menstruation and pain on sexual contact may also be seen
- Pressure symptoms like urinary or bowel disturbances may be seen in large size cysts.
Dr Brinda Patel lists more symptoms that indicate the presence of ovarian cysts.
- Lower abdominal swelling
- Painful intercourse
- Bloating and nausea
- Pain or discomfort during bowel moments
- Pain or discomfort while passing urine
- Infertility
"Ovarian cysts can be asymptomatic and may be detected incidentally on routine check-up or sonography. Symptoms of ovarian cysts may include Pelvic pain or feeling of pressure worsening shortly before or after the start of menstruation, dull ache in the lower back and thighs, difficulty emptying the bladder, pain during sex, abnormal bleeding and menstrual irregularities. Nausea, vomiting, and digestion problems can also be the presenting symptoms," says Dr Nisha Kapoor.
COMPLICATIONS THAT MAY OCCUR DUE TO OVARIAN CYST
"Cysts that become large can cause twisting of the ovary (ovarian torsion) which leads to sudden, severe pelvic pain and nausea and vomiting. Ovarian torsion can also reduce or stop blood flow to the ovary and cause tissue infarction. Also, larger ovarian cysts can rupture and can cause severe pain and bleeding inside the pelvis. Cysts rarely can become infected and rarely can undergo cancerous transformation," says Dr Kapoor.
TYPES OF CYSTS
Dr Radhamany talks about different types, diagnosis and treatment of ovarian cysts.
"Cysts in the ovary can be functional cysts, inflammatory, metaplastic, benign and malignant. -Functional cysts can be follicular cyst, luteal cyst, multiple functional cysts, corpus luteal cyst, PCOS. Inflammatory cycts are salpingo-oophoritis, IUCD related, puerperal, postabortal, Metaplastic includes endometrioma, Neoplastic can be benign, borderline and malignant. A functional cyst is usually between 3 to 7 cm. Follicular cyst can disappears spontaneously or if not regressed oral medroxyprogesterone may be given. Large and multiple cysts may cause pain, dysmenorrhea and irregular bleeding. These are non-cancerous and harmless, although sometimes causes pelvic pain. Most disappear in few months without any treatment," she says.
DIAGNOSIS AND TREATMENT OF OVARIAN CYSTS
Ovarian cyst is diagnosed using ultrasound imaging, which can differentiate benign and malignant ovarian cysts. USG can rule out malignancy features like presence of solid areas, papillary projections, irregular walls and thick septations. Tumour markers/biomarkers are substances or proteins that are made by tumour, or by cells in the body responding to a tumour. High level of specific tumour markers in the blood like CEA, CA-125 can suggest possibility of malignant ovarian cyst.
Management
• Watchful waiting and repeat scan a few weeks or months later to check if the cyst has regressed or disappeared. If menopause is attained, ultrasound scans, blood tests are advised every 4 months as there is a slightly higher risk of developing ovarian cancer.
If scans show cyst has disappeared further tests and treatment is not usually necessary. Surgery may be recommended if cyst is still present.
• Surgery
Large or persistent ovarian cysts or cysts that are symptomatic usually need surgical removal.
Surgery is recommended if there are concerns that cyst could be cancerous or could become cancerous.