Why we must soak legumes before eating. An Ayurveda expert explains
Ayurveda expert Dr Dixa Bhavsar talked about the benefits of soaking dals before cooking in her latest Instagram post.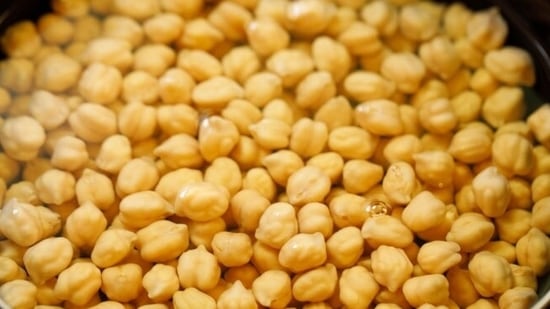 Updated on Sep 30, 2021 05:36 PM IST
Have you ever thought why we soak our chhole (chickpeas), rajma (kidney beans), moong dal (green gram dal) before cooking? While it reduces the cooking time and makes the dals easier to digest, there are some other health benefits of soaking lentils for several hours.
Ayurveda expert Dr Dixa Bhavsar talked about the benefits of soaking dals before cooking in her latest Instagram post. Talking about her favourite moong dal, she says it's her preferred choice considering they are so easy to cook and digest among other lentils.
She added that if you too like her love to have legumes and cannot do without them, you must soak them daily before cooking. Dr Bhavsar goes on to explain benefits of soaking legumes and how they improve nutrition absorption by removing phytic acid and tannins that block absorption of nutrients and also cause bloating.
ALSO READ: Why we should eat almonds after soaking and removing peel
Here are the benefits of soaking legumes, as per Dr Bhavsar
*Soaking improves digestion, nutrition absorption
"Well soaking them improves its digestion and nutrition absorption. That's the main reason why we eat them right? We want nutrition. So if you want to absorb optimum nutrition, soaking is the best option," she said.
*It also brings prana (life) into the legume.
*Soaking lentils before cooking also removes phytic acid and tannins from the legumes that block absorption of nutrition from it and cause bloating. "That is the reason why most of the people feel bloated and have gastric trouble after eating heavy legumes like rajma," she says.
*She adds that soaking dals can also reduce their cooking time.
Dr Bhavsar also talks about the ideal soaking time for various legumes
*Whole dals like Moong, tuvar, massor, urad dal - 8 to 12 hours
*Split dals- 6 to 8 hours.
*Heavy legumes like Rajma, chana or chole - 12 to 18 hours.
*Simply overnight soaking is the best option.
*She also added that the best time to have legumes is lunch time.
Dr Bhavsar also answered the question that may be in your mind. What do we do with the water after using the lentils?
"Since it contains the tannins or phytic acid, we don't want to use it. So the best way is to use it in watering your plants. That way your home plants shall get some nutrition too," she concludes.
Follow more stories on Facebook & Twitter
Topics
Close Story