Law of Attraction: Steps to manifest your desires of 2023
Jan 30, 2023 06:32 PM IST
Want to master the art of manifestation as you crave love, romance, money, intellect or success? Here's all you need to know about the Law of Attraction and steps to manifest your desires of 2023
A lot of emphasis and importance is given to the Law of Attraction according to which we can manifest what we desire, we can attract what we want, provided we passionately seek it, want it, think about it and visualise it. If we look at the word 'attraction' carefully, within it, we will find the word 'action' and the truth is that without action, without effort, we can never realise our dreams so, a lot of hard work is needed to realise a desire.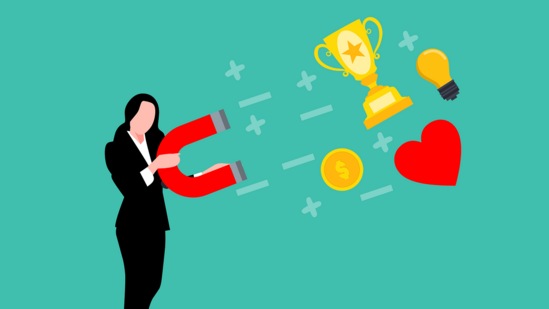 In an interview with HT Lifestyle, Puja Puneet, Life Coach, Founder and CEO of Life By Design, revealed there are three laws that need to mastered when talking about the topic of manifestation. These include:
1. LAW OF VIBRATION - The most important question to ask yourself is HOW AM I FEELING. Our thoughts create an electric charge and our corresponding feelings to those thoughts create a magnetic charge that pulls things of similar vibrations back into our life. The better we feel the more we can attract
2. LAW OF ATTRACTION - The most important question here WHAT DO I WANT. We are quick to focus and speak about all that we don't want but often forget to have clarity on what we do actually desire
3. LAW OF RESONANCE - Here the most important question is WHO DO I NEED TO BE FOR MY MANIFESTATION TO COME TRUE - we don't get what we desire, we get what we deserve and our deserving comes from aligning our conscious mind and our subconscious through saying what we mean and meaning what we say. The more trust we can have on ourselves the more dependable a human being we are the more we land up higher on the scale of converting our thoughts into things
According to Dr Saloni Singh, Mindfulness trainer and a Life, Leadership and Self-Mastery Coach, the first step to manifest your desires is to mind your language! She said, "Notice the language you use to talk to yourself – your inner chatter. Say only the things that you want to manifest and believe them, not the things that you worry about. For example, if you want good health, fitness and prosperity, say that I'm becoming conscious about food and exercise. I'm learning healthy habits around food and money. I believe that I can do it, no matter what happened in my past. If you say to yourself - I can't control myself, I can't lose weight, I am lazy and undisciplined, I don't like to exercise, I can't save money - you're setting yourself up for failure through your own words. Second step is to take action - plan your way to success and then focus on only one step, one day at a time. That's all."
Giving it a spiritual twist, AiR Atman in Ravi, Spiritual Leader and Founder of AiR Institute of Realization and AiR Center of Enlightenment, said, "Can everybody who wants to become a successful writer, become one? So many people dream of making it big, does everyone make it? What actually works is the Law of Action and Reaction. In fact, Karma plays an important role in our life. Whatever happens in our life is the unfolding of our actions, actions of this life as well as our past Karma, actions of previous lives."
As per him, to manifest a desire, we must:
1) passionately seek what we desire and
2) work towards it, giving it our all.
He recommended, "An attitude of acceptance, surrender and gratitude will help us on our way. Keeping calm, stilling the mind by meditating, using the intellect to discriminate, being positive, courageous and the willingness to take risks can help us too. We must understand that a manifestation of a worldly or material desire can never make us truly happy. Even if a desire manifests, it won't be long before we want something else. The only thing we should desire is the supreme immortal power we call God. We should seek to be united with God. Contemplate— why do we want a dream to become a reality? This is because we believe that it will make us happy. What we experience when a dream is realized is fleeting joy — pleasure. It comes and it goes. The only way to true happiness is through spirituality. It is through enlightenment. It is realizing who we are. Self-realisation, God-realisation lead to eternal peace and happiness."