Maximising concentration: Tips to boost your child's attention span and improve focus
Jan 20, 2023 12:34 PM IST
As parents, it is important to understand the factors that affect attention span and to develop strategies to help your children improve their concentration and focus. Here are some expert-approved tips to boost your child's attention span.
Attention span is an important aspect of cognitive development in children. It refers to the ability to focus and maintain concentration on a task or activity for an extended period of time. Concentration is like a muscle that requires regular exercise to strengthen. Some kids are born "stronger" in this area than others, and brains require some maturity for this to specialize. As parents, it is important to understand the factors that affect attention span and to develop strategies to help children improve their attention and focus. There are several strategies that you can use to help your child develop the skills they need to succeed academically, socially and in their future career. (Also read: Yoga for children: 5 asanas to improve your kid's concentration )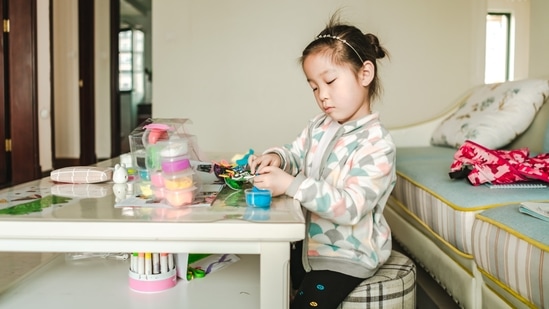 Talking to HT Lifestyle, Kirti Verma, Psychologist and Parenting Expert, suggested tips and techniques that can be used to boost your child's attention span.
1. Set clear and specific goals: Having a clear understanding of what is expected can help children focus better on the task at hand. Before starting a task, explain the goal and the steps needed to achieve it. Also instead of giving long and complicated tasks try to break down larger tasks into smaller and manageable chunks. As children can become overwhelmed when faced with a large task. Breaking it down into smaller parts can make it more manageable and less daunting.
2. Use positive reinforcement: Positive reinforcement can be a powerful motivator for children. Providing rewards for achieving goals can help to increase attention span and focus. The rewards should be age-appropriate and relevant to the task, such as a sticker, a small toy, or extra free time.
3. Physical activity and movement: Physical activity releases a neurotransmitter that sets our brain to calm and reduces the stress hormone cortisol which helps to increase blood flow to the brain, which in turn can improve attention span. Incorporating movement into tasks can also help to break up the monotony of sitting still for long periods of time.
4. Healthy diet: Encourage your child to take care of their physical needs, such as getting enough sleep, eating a healthy diet, and staying hydrated: Taking care of physical needs can have a positive impact on attention span and cognitive function. Avoid giving processed foods, artificial colouring, and artificial preservatives in your child's diet. To minimise exposure to environmental chemicals (such as pesticides in food) that can harm the brain, use organic foods and goods as much as you can.
5. Limit screen time: Excessive screen time can lead to a shortening of attention span and an over-stimulation of the brain. Limiting screen time can help to improve focus and attention span. Set a schedule for screen time and stick to it.
6. Mindfulness and relaxation techniques: Provide opportunities for your child to practice mindfulness and relaxation techniques: Mindfulness and relaxation techniques can help children to calm their minds and improve focus. Activities such as yoga, meditation, or deep breathing exercises can be beneficial.