Lok Sabha Elections 2019: Will contest from Purnia and Madhepura if denied ticket by GA, says Pappu Yadav
Published on Mar 25, 2019 05:41 PM IST
Madhepura MP Rajesh Ranjan alias Pappu Yadav is trying to contest Lok Sabha elections as part of Grand Alliance but he hasn't been given a ticket as yet.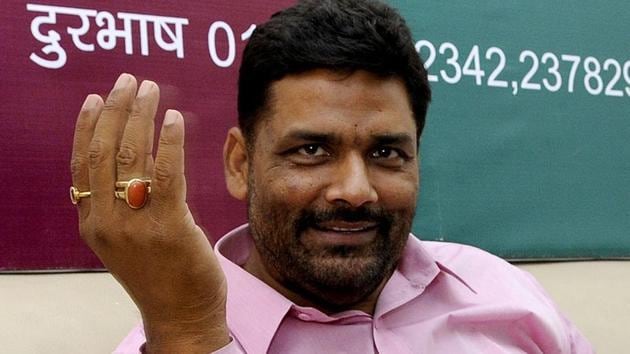 Hindustan Times, Purnia (Bihar) |
Aditya Nath Jha
Madhepura MP Rajesh Ranjan alias Pappu Yadav, in his last attempt to make an entry into the Grand Alliance, issued an ultimatum to GA leaders on Sunday. Yadav said that if he was denied a ticket to contest the Lok Sabha elections, he would wrest the Purnia and Madhepura seats.
Talking to the media on Sunday, the Madhepura MP 'gave an ultimatum' to RJD. "RJD'S vote bank is my family and if they don't take a decision by Sunday evening I will file nominations from both Purnia and Madhepura constituencies on March 26 and March 28 respectively."
On the other hand, he expressed the hope that Congress chief Rahul Gandhi would induct him into his party and would give him a ticket to contest either from Purnia or Madhepura.
Ranjeet Ranjan, Congress MP from Supaul and Yadav's wife, is said to be pressurising Congress for the induction of her husband into Congress. She is reported to have been seeking a ticket for her husband from either Madhepura or Purnia.
But the greatest roadblock for Pappu Yadav in Purnia district Congress committee is that no party leader wants him to become a part of Congress. "Once he comes into Congress, he will start behaving like a dictator," a senior Congress leader said.
"Even if Pappu Yadav is inducted into the GA or Congress, it will not be easy for him to wrest Purnia or Madhepura as decisions on these two seats have already been taken and an announcement is to be made soon," another Congress leader said.
Pappu Yadav, who started his political journey by winning Madhepura's Singheshwar Assembly seat in 1990 as an independent candidate, later won the Purnia LS seat in 1991 as an independent candidate, in 1996 as an SP candidate and again in 1999 as an independent candidate. He won twice from Madhepura in 2004 and in 2014 on an RJD ticket, before the party expelled him.
Yadav who was accused in the killing of CPI (M) leader Ajit Sarkar in 1998, was later acquitted by the Patna high court after 15 years and he was once again made RJD nominee from Madhepura in 2014 and he defeated JD(U)'S Sharad Yadav.
But this time, Sharad Yadav is contesting from Madhepura on an RJD ticket and Congress has almost finalised its candidate from Purnia. Uday Singh, a political turncoat who joined Congress recently is all set to contest from Purnia.