Lok Sabha Elections 2019: BJP hopes for Balakot poll gain
Expert says though traditionally ruling party in state does well in LS polls, this time retaliation against Pulwama may benefit Modi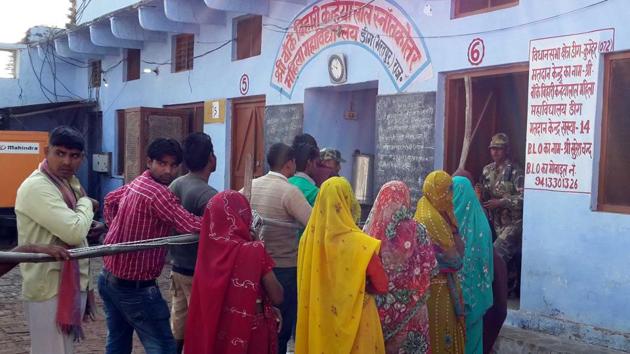 Published on Mar 16, 2019 10:18 AM IST
The previous trends show that the party in power in Rajasthan wins a majority of seats in Lok Sabha elections, but the coming general elections could throw up surprising results considering the public mood after India's air strikes on Pakistan in retaliation to the Pulwama terror attack, experts said.
The BJP came to power in the state in the 2003 assembly polls and won 20 out of 25 parliamentary seats in the 2004 Lok Sabha elections. The Congress won five seats. After the 2008 assembly polls, the Congress formed the government and won 20 Lok Sabha seats in 2009; the BJP won four seats and one seat was bagged by an independent.
The BJP returned to power in the state after the 2013 assembly elections and won on all the 25 parliamentary seats in 2014 riding on a Modi wave.
According to political expert Narayan Bareth, it has been a practice that the ruling party in Rajasthan gets more seats in Lok Sabha elections. "Unless something exceptional happens, people like to follow the tradition," he said. "The Congress, though in power now, may not win many seats in this Lok Sabha election."
In the last three years, the BJP failed to put up a good poll show because of farmers' suicides triggered by increasing debts and lack of fair price for their yields, Bareth said. "Farmers' issues became decisive and 'Jai Kisan' slogan resounded in political ambience. But the BJP has now raised 'Jai Jawan' slogan; 'Jai Kisan' slogan has taken a back seat."
He said India's retaliation on Jaish-e-Mohammed terror camps in Pakistan's Balakot could give benefit to Prime Minister Narendra Modi. "This time too, people may vote for him. BJP is strong in propaganda and they manage the elections well in comparison to other parties," Bareth said.
Bharatpur division comprises four districts -- Bharatpur, Karauli, Dholpur and Sawai Madhopur -- but it has three parliamentary constituencies -- Bharatpur, Dholpur-Karauli and Tonk-Sawai Madhopur.
Prior to delimitation in 2008, Karauli, Bayana and Sawai Madhopur were separate parliamentary constituencies. Dholpur district came under Karauli constituency. After delimitation, Bayana was merged in Bharatpur parliamentary constituency, Dholpur and Karauli districts were merged and made one constituency, and Sawai Madhopur was included in the Tonk Lok Sabha seat.
Traditionally, the fight has been between the Congress and the BJP in the constituencies. Though the Bahujan Samaj Party (BSP) entered Rajasthan in 1990 and contested assembly elections, it registered its presence when its two candidates won state polls in 1998 from Bansur and Nagar seats. In 2003 assembly elections, the BSP won from Bandikui and Sapotara constituencies. In 2008, BSP's six candidates won from Nawalgarh, Udaipurwati, Bari, Sapotara, Dausa and Gangapur, but all of them later joined the Congress and supported the Ashok Gehlot government.
In 2013 assembly elections, the BSP won from Dholpur, Khetri and Sadulpur. In 2018, the party again bagged six seats -- Udaipurwati, Tijara, Kishangarh Bas, Nagar, Nadbai and Karauli.
The BSP has been contesting Lok Sabha elections, but could not win a seat in the state. "Bharatpur and Dholpur-Karauli parliamentary constituencies have been influenced by the Uttar Pradesh politics and there is good presence of Jatav caste members who follow BSP supremo Behan Mayawati. The Jatav caste is politically more aware than other schedule castes," Bareth said. "In Lok Sabha elections, big parties have the presence; therefore contest will be between the BJP and the Congress."
After delimitation, Bharatpur Lok Sabha seat was reserved for scheduled castes. Ratan Singh from the Congress won the seat in 2009 and BJP's Bahadur Koli in 2014.
Bharatpur LS seat has seven assembly constituencies -- Kaman, Nagar, Deeg-Kumher, Bharatpur, Nadbai, Weir and Bayana. Before delimitation, former Bharatpur royal family members were winning from the seat.
Vishvendra Singh, tourism minister in the present Congress government, was elected Bharatpur MP three times on BJP tickets from 1999 to 2009. His wife Divya Singh was elected on a BJP ticket in 1996. Vishvendra's cousin Krishnendra Kaur Deepa had won the seat from BJP in 1991. His father Maharaja Sawai Brijendra Singh was an independent MP in 1967 and his uncle Giriraj Saran Singh was elected as an independent from the seat in 1952.
Karauli-Dholpur Lok Sabha seat was formed after delimitation in 2008. Four assembly seats from Karauli district -- Hindaun City, Karauli, Todabhim and Sapotra -- and four from Dholpur district -- Dholpur, Rajakhera, Bari and Baseri -- were included in the LS seat.
After delimitation, Karauli-Dholpur Lok Sabha seat was reserved for schedule castes. Khiladi Lal Bairwa of the Congress was elected in 2009 and BJP's Manoj Rajoria in 2014.
In Tonk-Sawai Madhopur Lok Sabh seat, Sukhbir Singh Jaunapuria was elected on a BJP ticket in 2014. Former IPS officer Namo Narayan Meena was elected on a Congress ticket in 2009.
Four assembly seats from Tonk -- Tonk, Malpura, Niwai and Deoli-Uniara -- and four from Sawai Madhopur -- Madhopur, Gangapur City, Bamanwas, Khandar -- were merged in the Tonk-Sawai Madhopur Lok Sabha seat after the 2008 delimitation.
Tomorrow: Bikaner
Topics
Close Story