Lok Sabha elections 2019: EVM glitches mar Panvel, Uran polling in Mumbai
Dattatray Nawle, returning officer, Panvel, said, "EVM malfunctions were reported from four poll booths in Taloja, Dodhani and Panvel. Our officials replaced those machines quickly."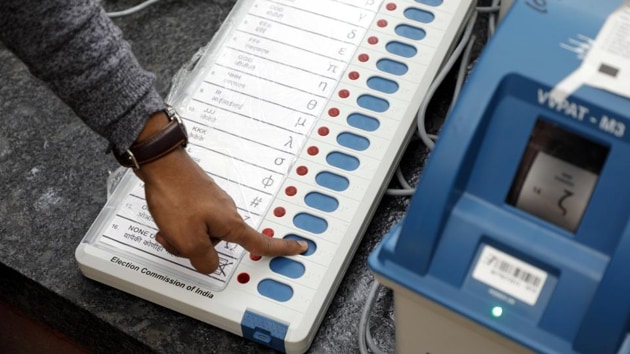 Updated on Apr 30, 2019 10:03 AM IST
The elections were conducted peacefully in Navi Mumbai (Panvel and Uran segments), under the Maval Lok Sabha constituency, with no major untoward incidents reported till evening.
However, malfunctioning electronic voting machines (EVMs) created problems at some places in the beginning of the day.
Dattatray Nawle, returning officer, Panvel, said, "EVM malfunctions were reported from four poll booths in Taloja, Dodhani and Panvel. Our officials replaced those machines quickly. The elections went smoothly for the rest of the day."
"People had to stand in long queues outside a booth at Dodhani as officials took almost an hour to replace a defunct EVM. Likewise, a machine stopped working at the Gujarati Shala in Panvel City. It was replaced within half-an-hour," said an inspector from Panvel police station.
Ashok Dudhe, deputy commissioner of police (zone II), said, "Overall, the city saw peaceful elections. Two FIRs were registered at Panvel City police station after some people got into scuffles in the afternoon. However, in both cases, the people belonged to the same party or an alliance partner. We are not considering them as political fights. We have arrested two people in the first case and one person in the second case."
A large number of senior citizens came out to cast their votes in Navi Mumbai.
Kashinath Patil, 84, who casted his vote at Kanya Shala in Panvel, said, "The resources in our cities are limited, but their population is growing fast. Almost all cities of the country are facing issues such as water crisis, uncontrolled pollution, shortage of parking space and traffic congestions, among others. The Centre can do a lot to make our cities liveable by ensuring proper management of the existing resources."
Also, students of Green Fingers Global School in Kharghar volunteered to help voters (who came to cast votes in their school) in finding their names on the list. A Class 9 student said, "Until this morning, I was unable to understand why people stand in long queues for several hours just to cast their votes. After interacting with voters today, I have realised the importance of the system."
Close Story
Personalise your news feed. Follow trending topics