Lok Sabha Elections 2019: NC president Farooq Abdullah files nomination from Srinagar
Updated on Mar 26, 2019 03:10 PM IST
Accompanied by his son and former J-K chief minister Omar Abdullah, National Conference chief Farooq Abdullah filed his nomination for the Srinagar Lok Sabha constituency on Monday.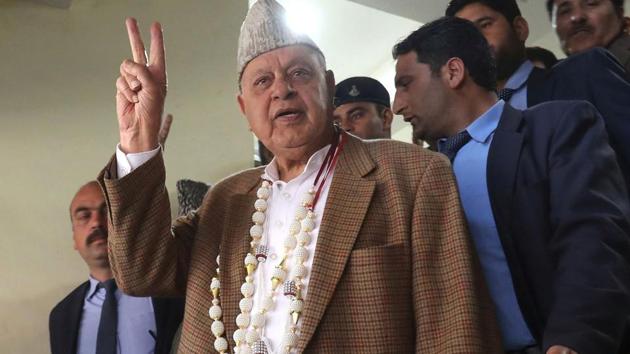 Hindustan Times, Srinagar / Kunzer |
, Srinagar/kunzer
Ashiq Hussain
National Conference (NC) patriarch Farooq Abdullah on Monday filed his nomination papers for the Srinagar Lok Sabha constituency.
Accompanied by his son and NC vice president Omar Abdullah, Farooq reached the office of returning officer and deputy commissioner Shahid Iqbal Chowdhary in Shaheedgunj area here to file his papers.
Talking to media persons at his residence after filing the papers, Farooq said he longed for creating a "new India".
"I am not seeing myself (as a potential Prime Minister face), but it would have been God's grade if I would have become the PM. I would have shown you a new India. I would have made it secular and given due respect to everyone and their respective religions. I would have been ready to die for them," he said while referring to the Prime Minister of New Zealand who "stood up...reached everywhere", following the recent mosque attack in Chirstchurch.
"Nobody should go hungry, without clothes or unemployment. I would have made a nation which would have been everyone's friend, including Pakistan China, Russia and America," he added.
The 81-year-old leader is one of the oldest and influential mainstream politicians in the state, who will be fighting the Lok Sabha elections from Srinagar constituency, comprising Srinagar, Budgam and Ganderbal districts.
He was earlier elected to the Lok Sabha in 1980 and 2009. In 2002, he became a member of the Rajya Sabha and repeated the term in February 2009.
He has been the chief minister of Jammu and Kashmir thrice in 1982, 1986 and 1996. Abdullah lost the Lok Sabha seat to PDP's Tariq Hameed Karra in the 2014 Lok Sabha elections but won it again in April 2017 after the seat fell vacant following Karra's resigination from the PDP and the Lok Sabha.
The NC president accused the Centre of vote-bank politics over Balakot airstike.
"Is the government sitting in Delhi taking up issues of unemployment or poverty? They are talking about attack on Pakistan and trying to garner vote on the same," he said.
Abdullah said the fight was against the communal forces.
"We want to bring the secular forces together... People are being divided on religions lines…We want to keep those parties out who divide us between Muslims and Hindus," Abdullah said.
The constituency will go to polls along with Udhampur in Jammu on April 18. While Congress won't contest from Srinagar as part of their alliance with NC in return for Jammu and Udhampur constituencies, Peoples' Democratic Party (PDP) has fielded Aga Mohsin from the constituency.
Later in the day, NC held an election rally at Kunzer in north Kashmir's Gulmarg constituency where many senior leaders, including Omar Abdullah, Lok Sabha candidate for north Kashmir's Baramulla constituency M Akbar Lone, party general secretary Ali M Sagar and bureaucrat turned politician Farooq Shah, were present.
Omar took on PDP for aligning with Bhartiya Janata Party (BJP) and blamed PDP president Mehbooba Mufti for NIA case against separatist leader Mirwaiz Umar Farooq.
He sought votes for Akbar Lone and launched an attack against PDP for first campaigning against BJP and then aligning with it in 2014.
He also blamed the party for "damaging" Article 370, bringing food security law in the state, implementing GST and bringing RSS into the state.
"The FIR by NIA under which Mirwaiz (Umar Farooq) is being called to Delhi was filed in 2017 when Mehbooba was the chief minister. You (PDP) are now saying things against NIA but who brought them here," Omar said.