Lok Sabha Elections 2019: NDA becoming stronger, 'mahagathbandhan' coming undone, says Javdekar
Updated on Mar 14, 2019 02:39 PM IST
Lok Sabha Elections 2019: Union minister Prakash Javadekar said BJP will contest Lok Sabha polls on four issues: terror-free India, poverty-free India, garbage-free India and corruption-free India.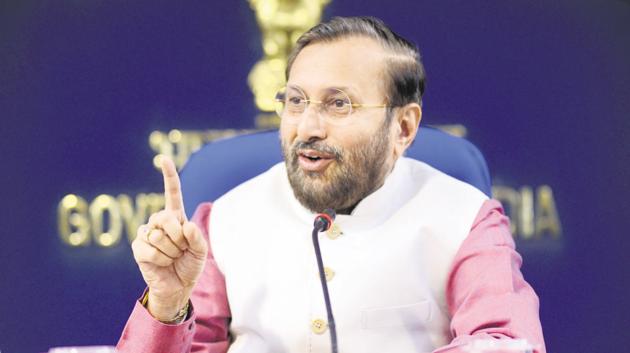 Union minister and Lok Sabha election in-charge for Rajasthan BJP, Prakash Javadekar said on Wednesday that the BJP-led National Democratic Alliance (NDA) was becoming stronger with new alliances and the 'mahagathbandhan' (grand alliance) was coming undone.
Speaking to reporters on the sidelines of party core committee meeting for selection of candidates for Lok Sabha elections, Javadekar said people thought Shiv Sena won't remain in the NDA, it remains; there's a new alliance in Tamil Nadu and many other parties have joined the NDA.
"The mahagathbandhan on the other hand is almost dead: Congress couldn't have an alliance with Aam Aadmi Party in Delhi, there's no alliance with Mamata Bannerjee in Kolkata nor with Chandrababu Naidu in Andhra Pradesh.
In Uttar Pradesh, the SP-BSP combine has isolated the party by conceding only two seats to it. In Karnataka, the alliance with JD(S) is breathing its last," he said.
Javadekar said BJP will contest LS poll on four issues: terror-free India, poverty-free India, garbage-free India and corruption-free India.
Also read | Lok Sabha elections 2019: Here is all you need to know about Rajasthan
The HRD minister said Prime Minister Narendra Modi, BJP president Amit Shah, national vice president and former Rajasthan chief minister Vasundhara Raje and other state and central leaders will launch public campaign from next week. He said people have to choose between a 'mazboot' (strong) government and a 'majboor' (helpless) government.
"Even BSP chief Mayawati has said Modi leads a strong government. He gave a free hand to the Army to take revenge for Pulwama terror attack but Opposition is raising questions on Army's action," he said.
Javadekar said that the BJP was moving towards victory with full confidence and Congress's nervousness over this was evident in the Ahmedabad meeting.
Rajasthan Pradesh Congress Committee vice president Archana Sharma said, "Those who are running coalition government are questioning the coalition. BJP that calls itself a big party is compromising in different states on small numbers on the name of coalition. Congress is doing alliance based on its ideology and 'mahagathbandhan' will form the government at the Centre."
For complete coverage of Lok Sabha Elections 2019, click here.
Personalise your news feed. Follow trending topics