Allahabad: Qureshi community to shun Eid celebration to protest closure of slaughterhouses
Members of the community, who are mostly into butcher trade, say the crackdown by the Yogi Adityanath government has left them high and dry.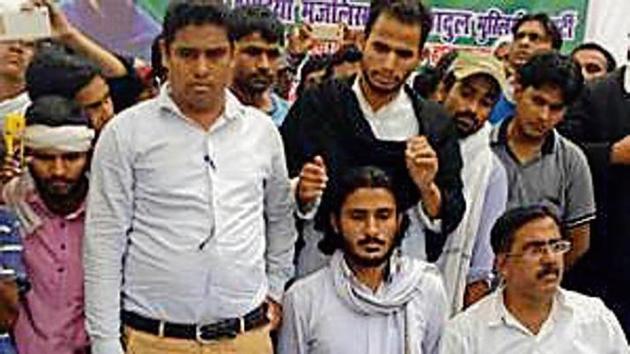 Updated on Jun 14, 2017 11:53 AM IST
Hindustan Times, Allahabad |
Farhan Ahmed Siddiqui
The Qureshi community of Allahabad, who are mostly into butcher trade will not celebrate Eid-ul-Fitr this year to protest closure of slaughterhouses after Yogi Adityanath-led BJP government assumed power in Uttar Pradesh.
The decision was taken at a meeting of the All-India Majlis-e-Ittehadul Muslimeen (AIMIM) and the Jamiat-ul-Quresh on Monday.
"We will not celebrate the festival and tie black ribbons while offering prayers to protest ban on slaughterhouses," said AIMIM's city president Afsar Mehmud.
"The situation is alarming for the Qureshis, who are mostly uneducated and have no expertise in any other trade," he added, accusing the government of not paying attention to the community's plight.
He said they will be forced to launch an agitation if no provisional arrangement is made before the Eid.
The statewide crackdown on cattle smuggling and illegal slaughter houses resulted in scores of arrests and cases against the minority community, many of whom lost their livelihood.
Following the controversial decision, the volume of India's beef (buffalo meat) exports fell drastically, down by as much as 35.5%.
Recent official data shows that while 1,37,687 tonnes of beef was exported in March 2017, the figure came down to 86,119 tonnes in April 2017 -- a drop of 51,568 tonnes in just a month.
Ishtiaq Qureshi, a former meat trader who now runs a small tea stall, said: "Eid-ul-Fitr is an important festival for Muslims but this year I along with my other community members, who are struggling for survival, will not celebrate it."
"My children are asking for new clothes for Eid, but I have invested my savings to open a small 'paan' shop. Now, I have no money to celebrate the festival," said another member of the community, Gulzar Qureshi, who used to trade in meat before the ban.
Gulsher, a former meat seller who now deals in scrap, said the government should have made an alternative arrangement for them before launching the crackdown.
"We were sending our children to schools to pull them out of meat trade. But the crackdown has hit us hard and left us with no money for our children's education," he said, adding "We are reeling under poverty."
After the closure of slaughterhouses in Allahabad as part of the state wide campaign against illegal meat trade, many butchers took up menial jobs.
Before the month of Ramadan began, members of the community went on a hunger strike demanding provisional arrangements for slaughter of buffaloes.
The strike continued for four days and was called off only when the officials assured to provide them support.
"Half of the month of Ramadan is over but the officials are yet to fulfill their commitment," said Usman Qureshi, whose family too was dependent on meat trade.
Close Story
Personalise your news feed. Follow trending topics