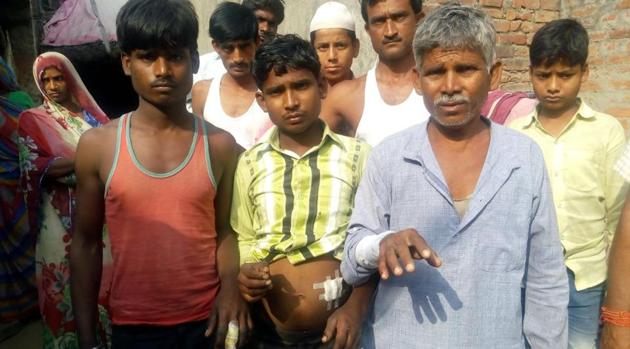 Canine menace continues in Sitapur; Minor boy, 3 adults injured in attacks
Dog attacks in populated areas have increased the fear among the villagers.
UPDATED ON MAY 20, 2018 10:16 PM IST
A 9-year-old boy and three adults were injured in two separate feral dog attacks in Talgaon and Laharpur areas of Sitapur district.
The boy, Sushil was attacked by a pack of four dogs in a field near his house in Rampurwa Haryapur village of Talgaon around 9 am.
His father, Suresh was irrigating the field nearby when the incident happened.
Suresh and other villagers rescued Sushil and chased away the dogs. Sushil had suffered multiple injuries and was admitted to Sitapur district hospital. He is in a critical condition, senior sub-inspector of Talgaon police station, Surya Prakash Shukla said.
In Laharpur, around 3.30 am on Sunday, two dogs attacked 22-year-old Chhotu while he was attending to nature's call near his house in Sheikhtola locality.
Chhotu said his father Lokai, 60, and brother Ghanshyam, 18, heard his screams and rushed to his rescue. "But they too were attacked by these very ferocious dogs," he said.
"Some more villagers turned up when we shouted for help. One of the dogs was killed in the confrontation, while the other was chased away," he said.
Tehsildar Sanjay Yadav, who visited both the spots, said combing operations have been increased to trace the feral dogs. "Villagers are being told to remain alert and not move out alone," he said.
Meanwhile, dog attacks in populated areas have increased the fear among the villagers.
Sameer, a resident, said earlier the dog attacks were being reported from secluded places and children were being targeted.
"But these recent incidents, especially the ones involving an elderly woman and three adults, are causing panic among people living in populated areas too," he said.
On Saturday, a pack of feral dogs had critically injured a 70-year-old woman, Shiv Kumari, in Sujawanpur locality of Khairabad town in Sitapur.
Since November last year, at least 14 children have died in feral dog attacks in Sitapur villages. In the past few weeks, the frequency of attacks has increased. At least, eight children have been killed since May 1. Besides, seven people — six children and the elderly woman — received serious injuries.
Close