Five children among eight killed in cylinder explosion in UP
Published on Apr 28, 2016 05:34 PM IST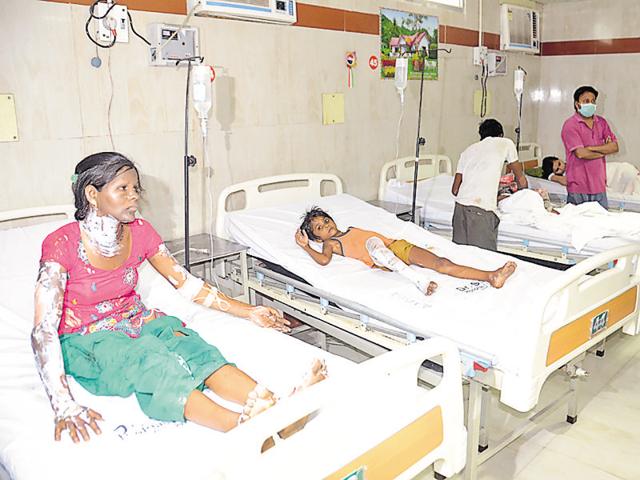 Eight people, including five children, were killed while 17 others critically injured in an LPG cylinder explosion apparently caused by the prevailing hot weather conditions, in Deva village, Barabanki, about 26 kilometers from Lucknow on Wednesday afternoon.
The small LPG cylinder placed in an open area exploded while guests were having lunch at a marriage function in the village. Doctors were alerted while those injured were rushed to Shyama Prasad Mukherjee (Civil) hospital in Hazratganj where the condition of nine were said to be critical. Rajesh Pandey, SSP, Lucknow, also visited the hospital.
The mishap occurred during 'tel pujan' (wedding ritual) of one Lalla Ram in Rafipur Terakhurd Kala village under Deva police station at around 12.30pm.
"Prima facie, the cylinder explosion was caused by excessive heat, but further probe is on," Javed Khan, inspector, Deva police station, told HT over phone. He said burns were also caused to people standing at the cooking site by boiling oil that fell on them following the explosion.
The children killed in the explosion were identified as Ajeet, Vivek, Golu, Khushi and Sonam (all under 10 years). Two of the three women killed were identified as Gyanwati and Phoolwati.
Professor Anil Mishra of Lucknow University's chemistry department said although a rare phenomenon, it could happen if the cylinder's condition was not good.
"Small cylinders are not as sturdy as normal LPG cylinders. In this case, the gas would have expanded due to excessive heat and led to cylinder blast," he explained.
Personalise your news feed. Follow trending topics