In Yogi Adityanath's UP, education gets a visibly saffron curriculum
Updated on Jan 27, 2018 09:05 AM IST
The UP govt has asked universities to set up a chair named after Deen Dayal Upadhyaya. Last year, in a quiz contest in Uttar Pradesh schools, students were asked questions about the state govt's schemes on Upadhyaya's birth centenary.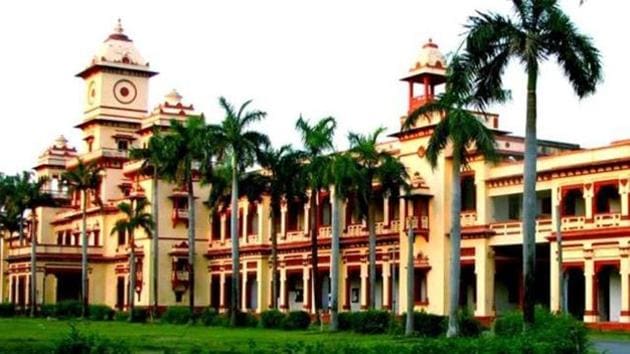 Hindustan Times, Lucknow/Varanasi |
Rajeev Mullick and Sudhir Kumar
Saffron appears to be the colour of choice in BJP-ruled Uttar Pradesh's schools, colleges and universities — be it curriculum or competition for students.
Identified as the colour of the BJP and the Sangh Parivar as a whole, a hint of the shade being stirred to paint the party's ideologies in the education system showed up at a quiz contest last August in UP schools, where students had to answer questions about the state government's schemes on Pandit Deen Dayal Upadhyaya's birth centenary.
Then again in December, a singing competition based on the Shrimad Bhagavad Gita Rahasya was held at schools across the state. A boy from Gorakhpur, the home constituency of chief minister Yogi Adityanath, was declared the winner. Aliya Khan of Meerut finished second. They carried home winners' cheques of Rs 50,000 and Rs 25,000 respectively.
The Srimad Bhagavad Gita Rahasya is freedom fighter Lokmanya Bal Gangadhar Tilak's seminal work on the Hindu text, which gives critics of the government led by monk-politician Adityanath reasons to believe that the state's education is undergoing a saffron change. Such events are allegedly adding to the students' workload, although these are not mandatory and many academics encourage the children to participate. "Holding quizzes is a good initiative, and all schools should participate. They should be inclusive and must not dwell solely on the Bhagavad Gita," historian Rana Safvi said. But the government-sponsored quiz contest failed to impress academics such as Safvi. "We should definitely organise historical quizzes in schools, but they should represent our glorious history, not a blinkered view," she said.
The state government has also asked universities to set up a chair named after Upadhyaya, a leader of the Bharatiya Jana Sangh which is considered the predecessor of the BJP. A government order, dated December 1 last year, says Rs 7 crore will be given among 14 state universities to promote his ideology through seminars and workshops.
Filmmaker-writer Sohail Hashmi criticised the move. "It is sad the government is establishing a chair to promote its ideologue at a time when scholarships for poor students are being cut. Why couldn't they create a chair in the name of Nobel Prize-winning economist Amartya Sen or Homi Jehangir Bhabha?" he asked. According to historian Makkhan Lal, opposing Upadhyaya's philosophy amounts to politics. "Why Left thinkers were silent when chairs were created in the name of Pandit Jawaharlal Nehru?" he questioned.
The so-called saffron-tinted extra-curricular activities have spawned fears that the BJP is trying to rewrite history to suit their ideology, an allegation the Opposition often fires at the party that came to power in UP in 2017 after 15 years. The debate surrounds an alleged push to teach the country's "correct" history to students. UP deputy chief minister Dinesh Sharma, who holds the education portfolio, probably had this in mind when he branded Mughal emperors Babar and Aurangzeb foreign plunderers who never respected Indian values. There are talks of getting a panel of "independent historians" to rewrite history books for the state board. If at all this happens, it will mean a paradigm shift in the syllabus that always had positive descriptions of Mughal emperors Humayun, Akbar and Shah Jahan.
Also, experts believe the changes could turn into a drawback for the state's students. "This is going to create a great knowledge chasm in society, giving children a distorted view of Indian as well as world history. Their counterparts under international boards will be reading an entirely different version of historical events. People from the elite and upper-middle classes will start admitting their children to those schools," says Apoorvanand, a Delhi University professor. But experts such as Kapil Kumar, a professor of history at the Indira Gandhi National Open University, dismissed allegations of an attempt to align education with radical Hindu views. According to Kaushal Kishore Mishra, a political science professor at Banaras Hindu University (BHU), saffronisation is not the right word to describe circumstances.
The saffron shade is visible at BHU, the century-old institute in Varanasi, where the Rashtriya Swayamsevak Sangh (RSS) has 15 shakhas or units on the campus — up from four three years ago. The RSS, the BJP's ideological mentor, began stepping up its activities when GC Tripathi was appointed the BHU vice chancellor in November 2014 — five months after the BJP-led NDA wrested power at the Centre.
"If saffronisation means the overall personality development of students, enhancing their knowledge, inculcating moral values and sanskar, and making them visionary, thoughtful and energetic, I am doing it. If (it means) anything else, I am not involved in that," Tripathi said.
His stint also saw convocation gowns for students being replaced with dhoti-kurta for men and saris for women. He said this was done following a request from students.