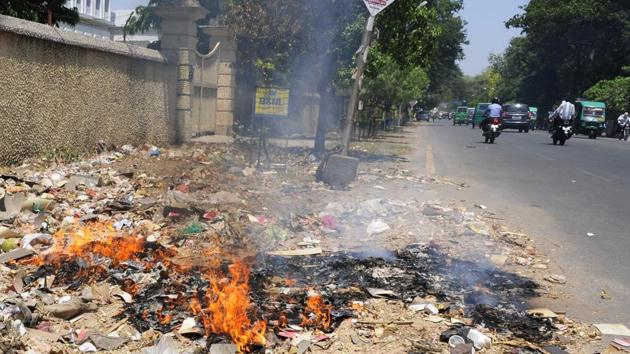 Lucknow 13th on list of most polluted cities in the world
Lucknow is among the most polluted cities in the world in terms of PM 2.5 level.
PUBLISHED ON MAY 03, 2018 04:18 PM IST
Lucknow is among the most polluted cities in the world in terms of PM 2.5 level.
Six cities from UP are among the top 20 polluted cities globally. Lucknow is ranked 13th among the most polluted cities in the world and fourth in UP, according to the data released by the WHO.
Experts say the reason for this dubious distinction is quite clear.
"The city does not have a scientific landfill site. On any given day, one can see heaps of garbage being burnt. As a result, the PM2.5 level, an indicator of air quality index, remains high as against WHO standards," said Venkatesh Dutta, associate professor in the department of environmental sciences, Babasaheb Bhimrao Ambedkar University (BBAU).
On Wednesday, the average PM2.5 level in Lucknow was recorded at 133 microgram/cubic metre. PM2.5 up to 50 is considered good air quality.
"This report, based on 2010 to 2016 data, finds Lucknow as the 13th most polluted city in the world. Along with Lucknow, the other cities from UP are Kanpur, Allahabad, Varanasi, Agra and Firozabad, which are ranked 2nd, 4th, 6th, 15th and 20th respectively in the list," said Ekta Shekhar, lead campaigner, Climate Agenda.
Former scientist at CDRI, PK Srivastava said construction activity is essential but none of these sites adapt standards to control air pollution oozing out from the activity there. "No real estate site uses green curtain that helps control particles from spreading. How can you expect air quality index to be all right," he asked.
Experts said city traffic is another key contributor to pollution. "A bus will spread little pollution if it runs smoothly at a speed of 40 kmph. But if the same bus is stuck in traffic for half an hour and then moves at a speed of 20 kmph, it will be more polluting. City traffic is a major contributor to pollution," said Srivastava.
Experts also raised the issue of trucks passing through the city. "If a truck is going to Bahraich from Sitapur, it travels through Munshipulia, which is a residential area now. Such things should be avoided and trucks should be made to go from outside city limits," said Dutta.
Close