Muslims raze parts of mosques to make way for Kumbh pilgrims in Allahabad
An Allahabad Development Authority official said they did not want to hurt religious sentiments of any community and interacted with people to convince them to demolish parts of illegal religious structures on their own.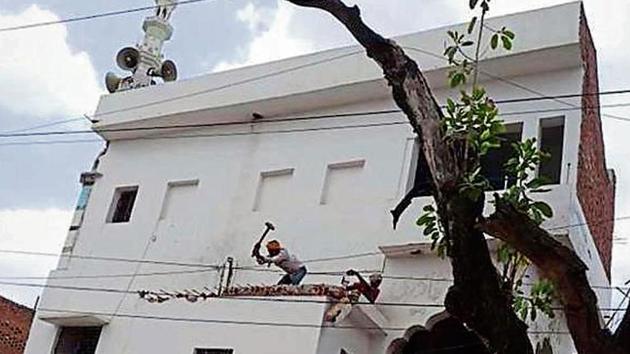 Updated on Jul 05, 2018 09:29 AM IST
Hindustan Times, Allahabad |
, Allahabad
Farhan Ahmed Siddiqui
In communally sensitive Uttar Pradesh, Muslims demolished parts of two mosques in the city on their own to pave way for a road widening project as part of preparations for the Kumbh mela next year.
The Kumbh Mela 2019 will be held at Allahabad (Prayag) from January 14, 2019 to March 4, 2019.
According to Allahabad Development Authority (ADA) officials, many buildings, including those of religious importance, were coming in way of the road widening project being carried out in view of the expected rush of pilgrims during Kumbh — the largest of Hindu pilgrimages.
The road widening project is scheduled to end late September or October.
An officer familiar with the development said ADA did not want to hurt religious sentiments of any community and interacted with the people concerned to convince them to demolish parts of the structures on their own.
Irshad Hussain, 'mutwalli' (caretaker) of Masjid-e-Qadri in Rajruppur area, said a part of the mosque was demolished with the consent of community members.
"The decision was taken in view of road widening project to facilitate devotees who will arrive here to take holy dip in the Sangam during Kumbh," he said.
"Muslims themselves came forward and took the initiative instead of staging a protest against road widening," Hussain said.
A part of Tirpal Wali Masjid on Sardar Patel Marg, constructed in 1912, was brought down by its 'mutwalli' Abdul Quddus and local residents during the month of Ramzan for the convenience of the devotees.
The 'mutwalli' took the initiative even before the officials could contact him for action or demolish the mosque.
ADA officials said they had marked the portions of the two mosques for demolition but members of Muslim community demolished it on their own without any resistance or protest.
Close Story