No boy will marry girl who comes to mandap in jeans: Minister Satyapal Singh
Hindustan Times, Gorakhpur |
, Gorakhpur
HT Correspondent
Dec 11, 2017 04:31 PM IST
In what appears to be a controversial remark, union minister of state for human resource development Satyapal Singh on Sunday said, "No boy will be ready to marry a girl who comes to the mandap (wedding stage) in jeans."
In what appears to be a controversial remark, union minister of state for human resource development Satyapal Singh on Sunday said, "No boy will be ready to marry a girl who comes to the mandap (wedding stage) in jeans."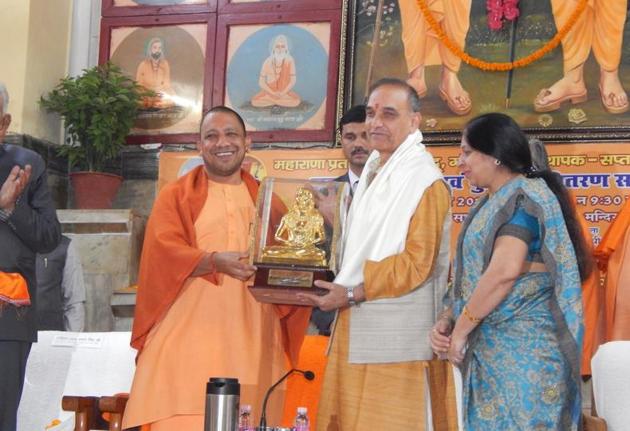 The minister, who shared the stage with chief minister Yogi Adityanath at a function in Gorakhpur, also said: "Similarly, no saint will be revered if he gives up his traditional attire and wears jeans."
He made these remarks in the context of appropriateness of attire in Indian culture, especially when and where to go in which dress.
He was addressing a gathering of students at the concluding ceremony of the foundation day of Maharana Pratap Siksha Parishad (MPSP), the academic venture of Gorakhnath temple.
The minister hailed the MPSP for preserving the values associated with Hindu culture and rendering services in the field of education and health. The Gorakhnath temple also runs hospitals, blood banks and Ayurvedic treatment centres.
Satyapal Singh added education should be linked with employment. In addition to helping spread education, institutions should incorporate human values in the new generation, he said.
Mutts and temples had always been centres of education and culture, he said, adding that the Gorakshpeeth had been instrumental in taking this tradition forward.
Satyapal Singh released two books with Adityanath on the occasion. These were: 'Bhartiya Sanskriti' and 'Gorakshpeeth : Yoga Evam Sant Parampara'. Both volumes have articles of the chief minister.
Singh said it was the good fortune of Uttar Pradesh that Yogi Adityanath was given its reins.
Addressing the students , Adityanath said human beings were the most wonderful creation of God. There was none who was useless or did not have talent, he said.
Recalling the role of his guru Mahant Avaidyanath in giving Gorakshpeeth a grand structure, Adityanath said saints usually preferred moksha (salvation) but Avaidyanath laid down his life for the country and the society.
From establishing himself in politics to engaging himself in social life, Avaidyanath did everything for the society and the country, Adityanath said.
Over 450 students were given medals, certificates and scholarship on the occasion.