Saffron whistleblowers crop up in illegal meat clampdown
Updated on Apr 17, 2017 11:42 AM IST
Demands to move meat shops outside city limits in Hindu holy cities, too, have started becoming louder.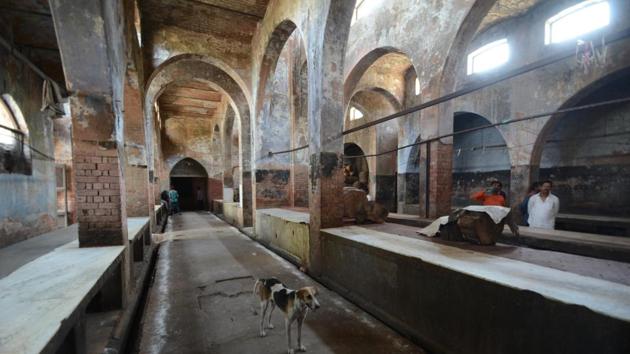 Encouraged by the Yogi Adityanath government's clampdown on unlicensed slaughter houses and meat shops, the saffron cadres have begun sending letters, reports and videos to the government on how 'illegal' meat and fish markets were still operating in many parts of the state.
Demands to move meat shops outside city limits in Hindu holy cities, too, have started becoming louder.
Even as the indefinite strike by meat sellers against the government's crackdown completed three days on Monday, saffron cadres have also started demanding a complete ban on all meat and fish sale during Navratras – the nine-day Hindu auspicious period, beginning Tuesday.
Most of such complaints -- letters and videos – are being sent from Hindu holy cities of Mathura, Varanasi, Allahabad and the twin-cities of Ayodhya-Faizabad.
UP cabinet minister Siddharth Nath Singh, meanwhile, justified the clampdown on 'llegal slaughter houses' and meat shops.
Read more| Adityanath on slaughterhouse crackdown: Govt following law...not against anyone
"Let's not fall prey to a disinformation campaign. There is no crisis as there isn't a problem with legal and licensed slaughter houses. Same is the case with authorised meat shops. But as I have said earlier as well, anything illegal cannot be justified," Singh said here in a brief chat with newspersons.
Responding to the government's version, a slaughter house owner said, "I believe even vegetable shops are unauthorised. Is the government mulling action against them as well?"
Manu Kacker, a BJP worker who had come here from Allahabad to meet UP minister Rita Bahuguna Joshi, told HT that he had provided details of how unauthorised fish and chicken markets were operating on the Sangam Marg.
"We have requested that these unauthorised fish and meat shops be shut immediately," Kacker said.
In Mathura, several illegal meat shops had been operating without any licence. In fact, a slaughterhouse, which has now been shut down following government action, too, was reportedly operating illegally.
Read more| Only illegal slaughter houses being shut in UP: Commerce minister Sitharaman
"The government action isn't wrong per se if it's limited to unauthorised or unlicensed slaughter houses and meat shops. But, it would be better if the government reaches middle ground rather than acting with an iron hand," Congress leader Pradeep Mathur, who hails from Mathura, told HT on phone.
Slaughter and sale of meat is banned within the 'panchkosi parikrama' route in Ayodhya.
Thus, all liquor and meat shops are mostly in adjoining Faizabad where Kasaibara and Gudari bazaar markets are among the main slaughter and sale points. Raids were also carried out at meat shops amid demand by Bajrang Dal volunteers to shift the shops, including licensed ones, outside the city limits.
A similar demand has been made in Varanasi, where party cadres want meat shops to be shifted 2 km away from Kashi Vishwanath temple. Also, an illegal slaughter house operating in Kamalgaraha area of Varanasi has been closed because it didn't have licence.
Read more: Meat vendors in Ghaziabad, Noida shut shop in protest against crackdown
Personalise your news feed. Follow trending topics