Sunni Ulema Council seeks jail term for those giving, validating instant talaq
Hindustan Times, Kanpur |
, Kanpur
Haidar Naqvi
Aug 29, 2017 03:59 PM IST
"This practice has darkened the innumerable lives of women and children. It is time to weed it out through law and awareness within the Muslim community."
The Sunni Ulema Council, a key Muslim body, has written to the union law ministry, demanding jail term for those giving or validating instant talaq, which the Supreme Court has declared unconstitutional.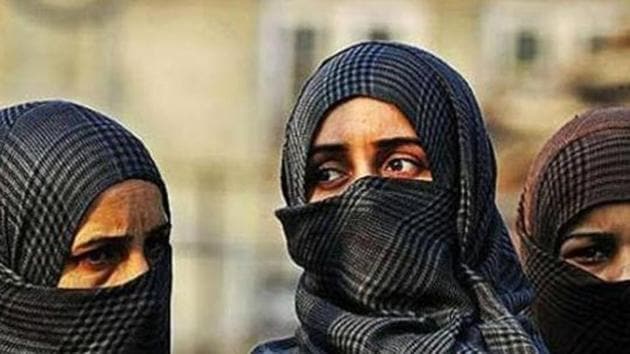 The Council's position is at odds with the Jamiat-e-Ulema Hind's hardline view of the Supreme Court verdict. The Jamiat members dominate the All India Muslim Personal Law Board (AIMPLB).
Jamiat's regional president Matinul Haq Osama Qasimi has been on record that no interference will be tolerated in the shariyat (codified Islamic laws) and the body was studying the order before it goes for a review. The Jamiat is studying the apex court order before it seeks a review.
The Sunni Ulema Council's first demand is that if a man gives his wife instant talaq, he should be made liable to fork out 10 times the Mehr, an essential payment the groom agrees to make at the time of nikah (marriage) to the woman.
The amount is mentioned in the nikahnama (marriage contract). The two parties, along with their witnesses, sign it.
At the same time, the talaq giver should face two years' imprisonment and be liable to pay a fine of Rs 2 lakh.
Another demand is that any cleric who validates triple talaq should face imprisonment of a year and a fine of Rs 1 lakh, which should be paid to the divorced woman.
Haji Mohammad Salees, general secretary of the Ulema council, said:
"We have told the law minister that without tough laws, the decision of the Supreme Court will be lost and this practice (instant talaq) will continue."
"This practice has darkened the innumerable lives of women and children. It is time to weed it out through law and awareness within the Muslim community," he said.
In August 2015, the council and many other bodies representing Muslim women had taken up the issue of instant talaq with the All India Muslim Personal Law Board (AIMPLB), asking it to initiate proactive measures for its complete abolition.
"This form of talaq has no sanction from the Quran or the Hadith whatsoever. Sadly, the board didn't act nor did it care to respond to us," Salees said.
"The practice flourished because of the self-centred clergy which has ensnared people. The Supreme Court decision is heart-warming but still a lot has to be done," he said.
Read more: Noida woman given triple talaq before SC decision, files complaint
The council has suggested that the government should constitute a committee of Muslim clerics and intellectuals with a mandate for abolition of this practice and complete adoption of the process of divorce as explained in the Quran, the holy book of Muslims.
"If our demands are met, these will deter Muslim men from divorcing women.Even if they do go for divorce, the financial part at least will help them (the women)," he said.