UP: Cops scuttle Bajrang Dal's plan to perform 'shuddhikaran' for Hindu woman
Published on Sep 25, 2017 05:57 PM IST
The Bajrang Dal ran into a determined police force in Hapur in Western UP on Sunday which prevented its workers from targeting a couple for 'love jihad.'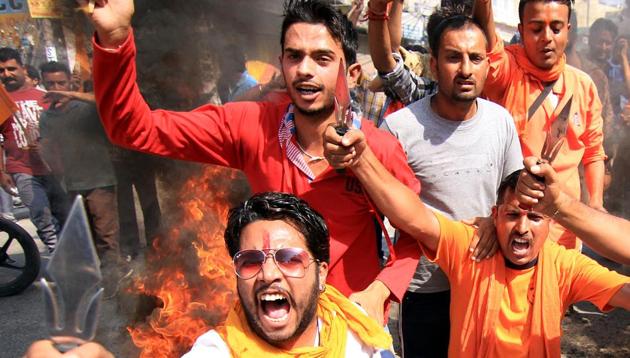 Hindustan Times, Meerut |
S Raju
Police beat back Bajrang Dal supporters who tried to forcibly take away a married couple from police custody in Hapur on Sunday evening after accusing the man of forcing the woman to convert to Islam after marriage.
Police lathi-charged Bajrang Dal workers when they insisted on 'shuddhikaran' (purification ceremony) of the woman. Police also took the couple to a police station to ensure their safety.
Hapur's superintendent of police, Hemant Kutelia transferred police station in-charge, Kotwali Nagar, Samrjeet Singh for using force on protesters. He also directed the police officials to provide security to the couple.
"The police had to use mild force to stop them. The situation is under control," Kutelia said.
Later, BJP MP from Meerut, Rajendra Agarwal and other leaders sat on a dharna to protest against police action on Bajrang Dal workers.
The demonstration ended later in the night after the party leaders reportedly talked to chief minister Yogi Adityanath over the phone. The BJP leaders are likely to meet the CM to brief him about the incident.
On Monday, the couple left for an undisclosed destination with the police facilitating their travel.
Also on Monday, authorities transferred circle officer, Hapur, Pawan Kumar Singh who allegedly ordered lathi-charge on Bajrang Dal activists.
Read more: UP: VHP to set up 'suraksha chowkis', safeguard Hindu girls from love jihad
Balraj Singh Dungar, convener of the Bajrang Dal in Uttar Pradesh alleged that it was a case of 'love jihad' and that his organisation's workers opposed the marriage of a Hindu woman to a Muslim man.
"The workers wanted to perform the woman's 'shuddhikaran' to bring her back in Hindu religion," he said.
He claimed that the man, who ran a coaching institute in Bihar, was already married and had two children.
"He lured the Hindu woman by hiding his identity and forced her to convert to Islam after marriage. We will not tolerate it," Dungar said. He had also demanded the transfer of circle officerPawan Kumar Singh.
Police said the 26-year-old woman fell in love with a Muslim man while working at his coaching institute in Sitamarhi in Bihar.
He had a branch of his institute in Hapur and the duo eloped from Bihar and settled in Shivpuri locality of Hapur where they had a court marriage last month.
On getting information, the woman's parents reached Hapur on Sunday. When they finally located her and asked her to return to Bihar with them, she refused.
The SP said the woman's parents have been sent back to Bihar after she denied that she was forced into marriage.