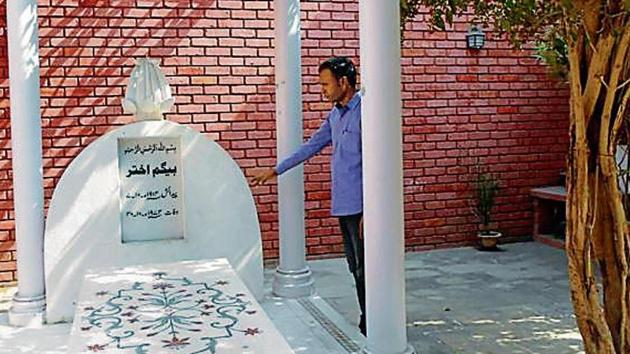 UP's Faizabad University to build Begum Akhtar music academy as a tribute to her
The Begum Akhtar Sangeet Kala Akademi will teach Begum Akhtar's music and have wings named after the seven basic notes of Indian classical music — Sa, Re, Ga, Ma, Pa, Dha and Nee.
UPDATED ON APR 06, 2018 11:36 PM IST
Her throaty lilting voice warmed the souls of a generation of Indians labouring to overcome the upheavals of Independence and a hard separation. But there's little left of the legend called Begum Akhtar in 21st-century India, barring a few vinyl records, downloadable MP3 titles and YouTube videos.
Seeking to keep her legend alive, as well as compensate for the delay in giving the Queen of Ghazal a fitting public tribute 44 years after her death, Faizabad University decided to build a Rs 60 crore Begum Akhtar Sangeet Kala Akademi on its campus, barely 5km from her birthplace.
The institute will teach her music and have wings named after the seven basic notes of Indian classical music — Sa, Re, Ga, Ma, Pa, Dha and Nee. "A student will first study at Sa. On attaining proficiency in the forms that will be taught at Sa, the student will qualify to enter Re, and eventually pass the course from Nee," vice chancellor Manoj Dixit said on Friday, announcing the decision to set up the academy after Akhataribai Faizabadi, who was more popular as Begun Akhtar. Known for her ghazals as well as Dadra and Thumri forms of Indian classical music, she was born in Bhadrasa village in UP's Faizabad in October 1914.
According to Dixit, construction will begin after the exams in May. "It will take at least 18 months to complete the building. So we expect the academy to be operational before her 50th death anniversary." The academy will have a museum to display rare records, all songs, films, photographs, and things related to her life, times, and music, the vice chancellor said. It will be the first to impart courses in music that made Begum Akhtar famous and will have a synergy between its course curriculum and the architectural design — with a built-up area of 9,951 square metres on a 36-acre plot.
The idea of an institute apparently came from demands and suggestions of Dixit's university colleagues and Faizabad residents, who wanted something worthwhile to commemorate the singer in her hometown. "She was such a famous personality, legendary singer, actor, and nationalist, and widely decorated with awards and honours (including the Padma Bhushan, posthumously). Yet, there is nothing noteworthy in her name. Following a demand from Faizabad citizens, the government of India released a Rs 5 coin on her birth centenary with her image embossed on one side. But we never saw that coin," said Om Prakash Singh, a member of university's executive committee.
Among those who sought "something to commemorate Begum Akhtar" was documentary filmmaker Shah Alam, a Faizabad resident. "She was married to barrister Ishtiyak Ahmed Abbasi and there was pressure on him to move to Pakistan during Partition … But she refused, saying she can't live without music and India. The couple stayed, but she stopped singing for a while only to resume later," he said.
Close