Madhya Pradesh assures wages for migrant workers to boost voter turnout
Updated on Nov 01, 2018 08:10 PM IST
Madhya Pradesh chief electoral officer V L Kantharao said, "many migrant workers are expected to return home ahead of Diwali on November 7. To convince them to stay on for the next 21 days till the polling day, we will provide them jobs under MGNREGA to ensure that wages are not a problem for them."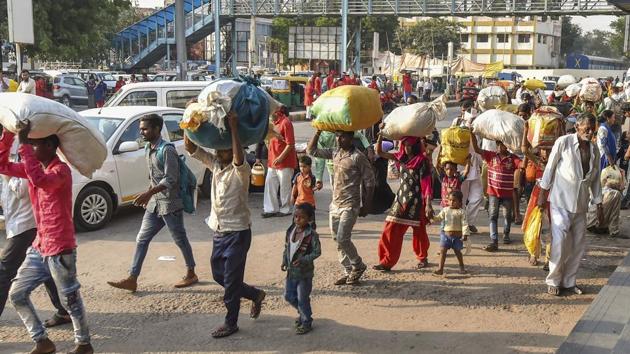 Authorities in poll-bound Madhya Pradesh have promised to take care of migrant workers' wages to encourage them to return home to vote from neighbouring states.
This is a part of their attempts to boost voting percentage in districts, which had witnessed lower voter turnout in the last assembly polls in 2013.
Madhya Pradesh, which goes to the polls on November 28, had recorded an overall 72.21% voter turnout in 2013. Districts like Jhabua, Bhind, Gwalior, Chhatarpur and Tikamgarh had bucked the trend of higher turnout elsewhere in the state and recorded voting percentages between 53 and 57%.
A large number of people from these districts work in neighbouring Uttar Pradesh and Gujarat. According to the Census 2011, 50 lakh people migrated from Madhya Pradesh, out of which 11 lakhs migrated seasonally every year.
Madhya Pradesh's chief electoral officer V L Kantharao has asked collectors of districts with the lower voting percentage in 2013 due to migrations to provide jobs to migrant workers under the Mahatma Gandhi National Rural Employment Guarantee Act (MGNREGA) to encourage them to vote.
Villagers can enrol for work to build rural infrastructure under MGNREGA for the minimum wage for 100 days a year.
"Migration is a major problem, especially in the tribal areas of western Madhya Pradesh, Bundelkhand and Chambal region, where the voting percentage is low as compared to other areas,'' said Kantharao.
He said a survey they had conducted found that only 2-4% migrant workers from Madhya Pradesh worked in the organised sector in other states.
This makes it difficult for a majority of the workers to return home without losing their daily wages.
"Most of the migrants are labourers working in the unorganised sector," said Kantharao. He said many migrant workers are expected to return home ahead of Diwali on November 7. "To convince them to stay on for the next 21 days till the polling day, we will provide them jobs under MGNREGA to ensure that wages are not a problem for them." Kantharao has instructed district collectors to mainly border Gujarat and Uttar Pradesh to also request their counterparts in those states to motivate migrant workers to return home to vote.
Jhabua collector Arvind Saxena said authorities in some Gujarat districts have replied positively and approached owners of factories, where migrant workers from Madhya Pradesh work. "The factories owners are ready to give them a two-day paid leave." Saxena said they had sent an 11-member team to places like Surat and Ahmedabad in Gujarat to get the details of migrant workers in the unorganised sector. "We found many people and motivated them to come back for the voting and we will provide them work under Mahatma Gandhi National Rural Employment Guarantee Act so that voting percentage could be improved."
Saxena's Chhatarpur counterpart, Ramesh Bhandari, planned to launch a campaign ahead of Diwali.
"We have directed all the panchayats to get ready to provide jobs to migrant people under Mahatma Gandhi National Rural Employment Guarantee Act and Pradhan Mantri Awas Yojna." the political parties have welcomed the move to boost voter turnout.
"This is really a welcome step on the chief electoral officer's part to enhance voting percentage. We are also in favour of more and more voting," said Bharatiya Janata Party spokesman Rajneesh Agrawal.
Congress spokesman J P Dhanopia echoed Agarwal.
"The chief electoral officer's steps to increase voting percentage are in the right direction."
He added they have also been requesting the Election Commission to ensure that the voters' list is without any fake voters.
A social activist Sachin Jain said, "This is a very good move. The people migrated because of lack of opportunities for work here in Madhya Pradesh," said Jain.
They could be emerged as deciding factors in the voting because they will caste their votes in the name of development only."