The Taste with Vir Sanghvi: The top 20, deliciously sexy men's fragrances
The Taste with Vir Sanghvi: This week's column is a follow-up to the one Vir wrote about the best women's fragrances. Here, he lists the top 20 men's perfumes.
more-lifestyle
Updated: Sep 20, 2017 12:11 IST
Most modern men's fragrances of the sort that are available at duty-free shops and at stores in our country fall into two categories. Some were designed for the Middle Eastern market and use synthetic molecules that mimic the smell of oud, an expensive natural ingredient that is at the heart of Arab perfumery. Others are lighter and appeal to the American (and now East Asian) view that men must smell 'clean'.So, the fragrances are based on synthetic molecules that were originally designed for the detergent industry. (There are articles to be done on the rise of oud and of detergent smells but they will have to wait;I shall write them in the course of this year).
Perhaps, as a consequence, the men's fragrance market offers less variety then the women's. You can take the view that I do, which is that the distinctions between masculine and famine fragrances are largely bogus. I wear Bandit and I think Portrait of a Lady works on men. But both of those perfumes were specifically designed for women so I put them in my list of The Top Twenty Women's Fragrances here, a few weeks ago.(Another example: I wear Coromandel by Chanel all the time but it's meant to be a feminine fragrance.)
This list of top men's fragrances is personal, subjective and largely directed at the Indian consumer who needs hot-weather scents. You will find many light, old-fashioned citrus-type fragrances on the list because that's what I've been wearing in the Delhi summer. Unlike the list of feminine perfumes, most of these fragrances should be readily available in India and at duty-free shops.
1) Cool Water: Not a fragrance I would wear, but the most important men's fragrance of the second half of the 20th Century. It is so influential that perfumers are still copying it for other men's fragrances.
The molecule Dihydromyrcenol has been widely used in detergents and laundry products since the 1960s. By the 1990s, market research had revealed that men associated the smell of fresh laundry with cleanliness. So Drakkar Noir, launched in 1982, used Dihydromyrcenol in large volumes and became a best-seller. In 1988 came Cool Water, a more sophisticated take on the same idea. Men's fragrances have never been the same.
It is a great fragrance though strangely, when I want a 'clean' smelling body spray, I still prefer the naff Drakkar Noir.
2) Body Kouros: Many people love the original Kouros. Others feel it smells too much like an impolite body part and steer clear. Though Body Kouros was intended to be a 'flanker' to Kouros (a 'flanker' is a fragrance with a similar name that differs slightly from the original), it is actually a completely different fragrance that has an intense, sweet, rum-like smell. I prefer it to Kouros.
3) Lime Basil Mandarin: Jo Malone is a Brit perfumer who has created one classic fragrance in her life --- this wonderfully fresh and yet complex scent. I love it so much that I even use the shampoo!
Malone sold out to Estee Lauder which has taken the brand global and has just opened an India store. So far, at least, there have been no memorable fragrances from the new corporate regime but perhaps they will eventually come up with something worth paying those ridiculous prices for.
Malone now runs her own niche brand called Jo Loves which has nothing to do with the Jo Malone behemoth.
4) Ormonde Man: Years ago, I was wearing this fragrance while interviewing Christopher Sheldrake (of Chanel and Serge Lutens fame), when he stopped the interview and asked: What fragrance are you wearing?
I was thrilled that I had discovered it before Chris Sheldrake had!It is easy to find in London, less easy to locate elsewhere but it's worth the trouble.Its a rich complex smell that works well in the Indian evenings.
5) Yohji Pour Homme: Yohji Yamamoto may or may not be as great a designer as Issey Miyake but his fragrances have not met with the same success as Miyake's bestsellers. Though this masculine fragrance, with its unusual mix of wood and spice, delighted perfume fans when it was launched in 1988, it failed in the market and was discontinued. It was re-issued a few years ago and still smells classy and great. (If you can't find it, BodyKouros is the same sort of fragrance).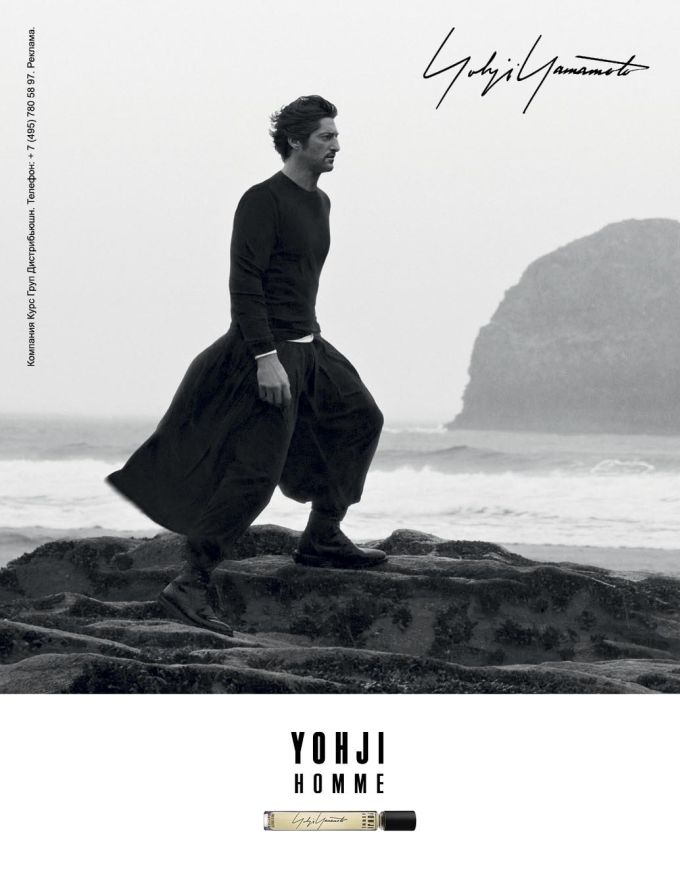 6) Eau de Sud: The French fragrance house of Annick Goutal is best known for Eau d' Hadrien its flagship fragrance. Eau de Sud is basically the same fragrance with more herbs added. In the same school as the Jo Malone Lime, Basil, Mandarin but, I think, even better.
7) Baldessarini: I can't think of any label that has churned out as many third rate fragrances as Hugo Boss. This one is the glorious exception: it begins like a cologne and then turns into a woody fragrance. As you would expect from a label that retails so many dodgy fragrances, Hugo Boss perversely enough, does not supply this, its one good fragrance, to most markets .But I have bought it at Parcos in India.
It may smell familiar. Tom Ford for Men is pretty much the same fragrance with the added ingredient of Mr Ford's stubble and hype.
8) Monsieur de Givenchy: When I first started shaving, this was my aftershave. Perfume junkies say that the manufacturers have tinkered with the formula but it still smells good to me: cool and classy. Much better than the new stuff Givenchy is flogging these days.
9) Eau Sauvage: Created by the great Edmond Roudnitska, this is an all-time classic: A citrus men's fragrance that never goes out of style. It has nothing to do, by the way, with Sauvage, an inoffensive fragrance launched more recently by Dior.
10) Eau de Mandarine Ambrée: I brought myself a huge (200ml) bottle of this cologne-type fragrance from the Hermes shop in Delhi and it has kept me going through the summer. Perfect for Indian weather.It's a modern take on Eau de Orange Vert, the classic Hermes cologne, by Jean Claude Ellena who was, till recently, the perfumer at Hermes and created the blockbuster Terre d'Hermes.
11) Azzaro Pour Homme: This came out in the late 1970s and combines the coolness of lavender with an elegant sweetness. A fragrance for when you dress up in the summer. The only Azzaro fragrance I like, by the way.
12) Eau de Cologne: From Jacques Polge of Chanel, this is the best cologne I have ever smelt. Brilliant and perfect.
13) Habit Rouge: A classic from a gentler era, this has a little orange and works well in hotter climates. But be warned: It is an old fashioned smell.
14) Dior Homme: Probably the best mass market men's fragrance in recent memory. At its core is iris, which all French perfumers love, but you can also get a little leather, some fruit and even a little tobacco. But like all truly great perfumes, it is more than the sum of its parts; a thoroughly modern smell with traditional notes.Created by Olivier Polge who is now at Chanel.
15) Jules: This is the men's fragrance Dior never talks about mainly because it smells dirty and sexy in a way that even Kouros can't manage. For that special date with someone you already know intimately .
16) Vanilia: The problem with vanilla fragrance is that there are so many cheap synthetics available that most vanilla perfumes smell downmarket and nasty. I love Vanilia by L'Artisan Parfumeur because it is so joyous, happy and yet sophisticated. It is hard to find these days so I use Vanille Exquise by Annick Goutal which has the inexplicable power to always cheer me up.
17) Sycomore: My favourite Khus fragrance (vetiver is French for Khus) smells French and yet its sandalwood and Khus are totally Indian ingredients. Smoky and sophisticated in a Chanel sort of way.
18) Spice Bomb: It's not for everyone but I am betting that all Indians, with our love of spice will like this sweet and mysterious fragrance created by Francis Kurkdjian for Viktor and Rolf.
19) Gucci Pour Homme: The best perfume Tom Ford ever oversaw was not one for his eponymous line but this beauty from 2003 when he was at Gucci. The perfumer Michel Almairac packed it with cedar, amber and frankincense but I always smell pencil lead. It can be hard to find but don't let them fob you off with the horrible Gucci by Gucci Pour Homme, which is a completely different, rubbish fragrance.
20) Secretions Magnifiques: I wondered about including this because it smells exactly of what it says on the packet .Plus a) it's very controversial and b) I haven't seen it on sale here. But it is a magnificent achievement that uses mainly synthetic molecules like Azurone and Sulfurol to remind us that our body's smells can be delicious and sexy.