Baadshaho movie review: Little gloss and a lot of disappointment in Ajay Devgn's film
Sep 03, 2017 12:49 PM IST
Baadshaho appears old-fashioned in its approach with actors mouthing applause-worthy dialogues. Rajat Arora's one-liners work in favour of the film. Here's our movie review.
Baadshaho
Cast: Ajay Devgn, Ileana D'Cruz, Emraan Hashmi
Director: Milan Luthria
Rating: 2/5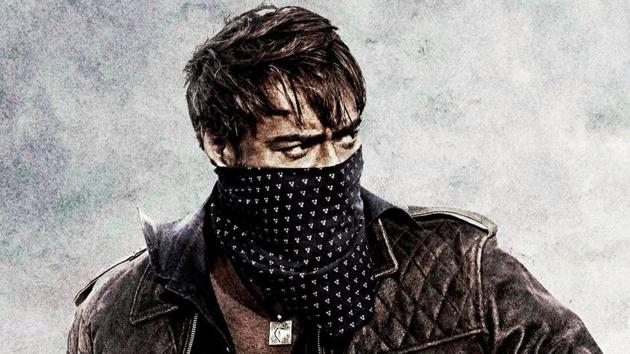 The year is 1973. A Rajasthan princess thwarts the advances of a powerful politician, who has an uncanny resemblance to Sanjay Gandhi, by pointing a sword at his heart. The animosity between the two takes two years to culminate when the government declares the Emergency.
Now, the politician named Sanjeev (Priyanshu Chatterjee) is after the princess Geetanjali's (Ileana D'Cruz) life and quintals of gold her family has hoarded for bad times.
Watch: Our Facebook Live discussion on Baadshaho and Shubh Mangal Saavdhan
Geetanjali's confidant and lover Bhawani (Ajay Devgn) is determined to hijack the truck full of gold on its way to Delhi. Dalia (Emraan Hashmi), Guruji (Sanjai Mishra) and Sanjana (Esha Gupta) are part of his team. But there is a mole among them who might change the game.
It's an old-fashioned story set in an era when the royals were concerned about the fate of their private banks. There are mentions of Sholay and Thakur in case you still don't get the era right.
Rajat Arora's dialogues set the mood initially. Bhawani arrives announcing, "Zubaan aur jaan ek hi baar di jaa sake hai, aaj se dono thaare." You're slightly intrigued. Baadshaho could be another whistle-worthy 'paisa vasool' entertainer like Once Upon A Time In Mumbaai.
Emraan Hashmi too plays to the gallery. His t-shirts have quotes like 'free love' and 'night special.' A song featuring Sunny Leone and a chase to showcase Shehar Singh's (Vidyut Jammwal) acrobatic skills manage to keep the audience engaged despite signs that the thrilling part of the story might finish well before the end.
Unfortunately, after 10 more minutes, this is exactly what happens, and Baadshaho begins to turn into a dull affair.
The weakest part in this so-called heist film is the heist itself. In fact, it's one of the easiest heists in cinematic history where the people in charge of protecting the gold truck are the most clueless. The authorities get hold of everyone except the most obvious suspect.
Milan Luthria wants Baadshaho to have headstrong and cynical characters, and the most convenient way of doing it in Bollywood is by projecting sensational dialogues. Rajat Arora comes handy as he pens one-liners such as 'Aapke sone ka carat humare character ko kharab nahi kar sakta' and 'Queen ke saath ek cover bhi hota hai'.
But everything goes in vain in the absence of a coherent screenplay. The actors come, mouth dialogues and leave space for another one to do the same, with nothing happening in between. What worked in Once Upon A Time In Mumbaai, which had the same team, was a good build-up to the climax. Here we all know where it is headed.
It feels really awkward when in the middle of a heist, Emraan Hashmi and Esha Gupta begin to talk about their future and how they feel the need of love in their lives. This seems like a formula -- we have shown action scenes for 10 minutes, let's go for an emotional scene now.
Ajay Devgn sleepwalks through his role with extra emphasis on his 'intense' eyes. Emraan Hashmi and Vidyut Jammwal are no different. Sanjay Mishra is the most natural of the lot, but this is far from his personal best.
This leaves us with Baadshaho's two lead ladies, Geetanjali and Sanjana. The only purpose they serve is to add some glamour to the film. Geetanjali is a princess, supposedly an influential one, but she is the most helpless in the scheme of thing that's spearheaded by her ordinary bodyguard. There's a femme fatale angle as well which doesn't contribute much to the story apart from bringing a twist just for the sake of it.
Baadshaho has too many ordinarily written characters jostling for whistle-worthy one-liners for 136-minutes. Eventually they run short of the steam and Baadshaho becomes a rehashed '90s story with some gloss and a lot of disappointment.
Interact with Rohit Vats at Twitter/@nawabjha
ott:10:ht-entertainment_listing-desktop